---
The Passion of Joan of Arc
Cast
Maria Falconetti, Eugene Silvain, André Berley, Antonin Artaud
View All
Crew
Carl Th. Dreyer (Director), Carl Th. Dreyer (Screenplay), Joseph Delteil (Screenplay)
View All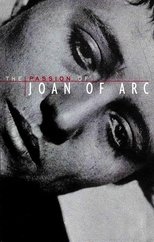 Released: Apr. 21st, 1928
Runtime: 1 hour, 22 minutes
A classic of the silent age, this film tells the story of the doomed but ultimately canonized 15th-century teenage warrior. On trial for claiming she'd spoken to God, Jeanne d'Arc is subjected to inhumane treatment and scare tactics at the hands of church court officials. Initially bullied into changing her story, Jeanne eventually opts for what she sees as the truth. Her punishment, a famously brutal execution, earns her perpetual martyrdom.
Reviewed by

Jack1
It's a film that seems ahead of its time - the close-ups and extreme close-ups used, the violence, the level of emotion that manages to be built up.
Zotis
It was found in a mental institute no less. It's the kind of thing that is so close to God it would drive you insane. "To know God is to know madness," as they say.

SamsoniteDelila
The real trial was comprised of 22 sessions of interrogation, over a span of 6 months.