---
Black Panther
Cast
Chadwick Boseman, Andy Serkis, Michael B. Jordan, Lupita Nyong'o
View All
Crew
Ryan Coogler (Director), Joe Robert Cole (Screenplay), Ryan Coogler (Screenplay)
View All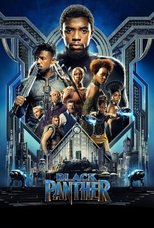 Released: Feb. 9th, 2018
Runtime: 2 hours, 14 minutes
T'Challa, after the death of his father, the King of Wakanda, returns home to the isolated, technologically advanced African nation to succeed to the throne and take his rightful place as king.
Reviewed by

The Gunslinger45
And after a brief stop in 90's Oakland (more on that in a moment), we see in the present day T'Challa (aka Black Panther and Chadwick Bosman) and General of the Wakandan Dora Milaje Okoye (Danai Gurira) on a mission to get one of their operatives Nakia (Lupita Nyong'o) from her current assignment.

seanc
I felt the way about him in this film as I usually do. He is absolutely a magnetic presence at times and I find him to be an exciting young actor.
BroganMM
His best fighter is a strong female who wields her weapon so powerfully and when she hopped up on that car in the beautiful red dress and just took names, sisterhood. Lastly, the lover a strong female who stood side by side with him as opposed to a step behind.
View All (4)