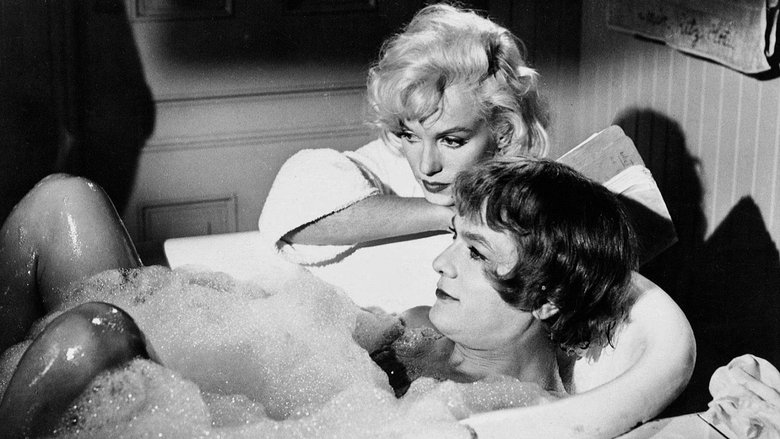 in
Year of release
1959
Directed by
Billy Wilder
Written by
Billy Wilder (script)
I.A.L. Diamond (script)
Robert Thoeran (story)
Michael Logan (story)
Starring
Marilyn Monroe
Tony Curtis
Jack Lemmon
Some Like it Hot
++
Plot
- 1929. Two musicians, Joe and Jerry (Tony Curtis and Jack Lemmon) inadvertently witness the Valentine's Day Massacre mob murder. Realising they are not long for this world if they stick around, they find a way out by joining a band heading for Florida. Just one problem - it's an all girls band! Donning dresses and wigs, Joe and Jerry are transformed into Josephine and Daphne. Along with the band's singer, Sugar Kane (Marilyn Monroe), they embark on a series of adventures and complications.
We take a brief divergence from my season of 70s thrillers for this all time classic comedy which I had the privilege to catch at the cinema a few weeks ago now.
While I did very much enjoy this the first time I saw it (around about a 3.5+) my enjoyment this time around was on certainly on a different level. Whether that was down to the experience of seeing it on the big screen, viewing a much sharper print than previously or perhaps it was down to who I watched it with. The friend I went to see it with loves Some Like it Hot, listing it as one of her 10 favourite films. So perhaps her massive enthusiasm rubbed off on me.
What is perhaps most impressive here is how Wilder is able to take what is basically a one joke premise and make it into a two hour film with a pace that never greatly drops. The reason for much of that success is that it doesn't fixate solely on the 'two guys in dresses' angle. Instead it presents us with a fun send-up of gangster films, a clever reversal of genders and stereotypes, a lovely period picture in its own right and most of all just a hilarious, downright farce. For such a light-hearted film it actually contains some great action (the opening chase between the cops and Spats' goons) and the main story is kicked off by multiple gangland murder, not something you'd expect for such a sweet, family film; particularly in the 50s.
This is a terrifically scripted comedy full of sparkling dialogue. And luckily the quality of the script gets the performances it deserves from its great cast. If you were to ask most people what they associate with Some Like it Hot in a Family Fortunes/Family Feud style, the top answer would probably go to Marilyn Monroe, followed by Tony Curtis. And while they are both great, for me the real star of the piece is Jack Lemmon. He is just tremendous and is responsible for the large majority of my favourite moments here; whether it be his mantra of "I'm a girl, I'm a girl" when in bed with Sugar, his tango dancing with Osgood Fielding III or his giddiness the next morning when he thinks he's getting married. The man in just a legend and with every performance of his that I see he moves further up the rankings of my favourite actors.
The other two members of the classic trio as I said are both great. Expertly playing up to her ditzy blonde image Monroe is terrific. She shows throughout the whole film just why she was, and still is such an icon. She just oozes charm and sexuality; imbuing Sugar with innocence, charm, a playfulness and a touch of naivety. She constantly lights up the screen, perhaps none more so than when she sings "I Wanna Be Loved By You." With her sultry voice and incredible see-through dress she is just pure sex appeal. And given perhaps the toughest task of the three as the straight man of the piece (at least as close as you can get when you spend much of the film in drag) Curtis still comes up with a terrific showing as both Geraldine and as the ridiculously accented Junior. I think the fact that both he, and Lemmon, play things so straight for the most part really helps. As opposed to just playing it extremely camp they make the characters seem believable.
The casting as a whole deserves great praise for finding individuals who are just perfect for specific roles. I'm talking in particular about those playing Slacks' goons. Their faces and voices just possess such incredible character. Nehemiah Persoff gives a vibrant showing as Little Bonaparte, while Pat O'Brien makes a great impact in a small role as Detective Mulligan; responsible for a number of great lines.
I think the choice to shoot the film in black and white was an exceptionally smart move. Along with helping to create the films 1929 period setting, it is very effective in cutting down on the camp element of the film. By helping to hide the make-up and the colour of their dresses, it means that it never stands out as much as you think it would. Though the costumes throughout the film are excellent, from Monroe's dresses down to the classic gangster get-up sported by Spats.
It's really hard to think of too many flaws. Perhaps at two hours it is a touch too long, meaning that the pacing in terms of laughs is a little hit and miss. The film will deliver an excessive series of laughs in short bursts, and then go for stretches were the laughs die away to an extent. Oh and while Persoff is good value as Little Bonaparte, his introduction and the time dedicated to 'The Friends of Italian Opera' feels a bit unnecessary, just diverting time away from the main story. But these really are just minor quibbles.
The film is also able to boast a wonderful, classic ending. The last few minutes are just terrific, and it ends with the fantastic exchange between Lemmon and Joe E. Brown, culminating with the memorable line, "Well, nobody's perfect." It's also one of those great bits of Hollywood legend that such a classic line wasn't written until the night before the scene was shot.
Conclusion
– This is just such a joyous, feelgood film. I can see it being a great choice as a film to watch when I'm sick in bed, and in the need of a good laugh. A film just designed to put a smile on your face (unless you're HoneyKid that is
)