in
Day 131: September 8th , 2010
The Wizard of Oz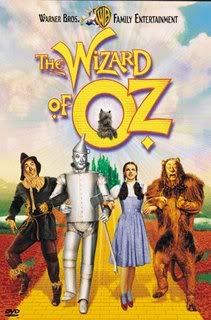 Does this film really need an introduction?
The Wizard of Oz really is a classic film. It defines classic for me. A film from the late 30's with classically song tunes that people are still singing today? A story so well that people are still influenced by it today? (Lost anyone?) A cinematic and deliciously evil villain hell bent on evil things? An adventure across a fantasy filled land? A heroine and her friends overcoming great triumph? A cute little dog? The Wizard of OZ has it all.
Looking for a film that has been seen by virtually everyone? I might take a chance and point to this one. Sure people have seen films like Citizen Kane, the Godfather and Star Wars, but those are film buffs. My girlfriend hasn't seen any of those. The Wizard of Oz is something like an initiation to film for little kids. I watched it a dozen times when I was younger. Still holds true today. Hell, I even watched it while playing
Dark Side of the Moon
once.
Is it all a dream? The original mind screw of a film...without ever feeling like one. Weird isn't it? The film is bright, vibrant and beautiful. The costumes are authentic and stellar. Watching this on blu-ray and seeing the tiny fibers on the fabric costumes made me smile. The Scarecrow, Tin-Man and Cowardly Lion. All hilarious, and heartfelt. My personal favourite has always been the Tin Man.
The Wizard of Oz is a true classic film. Throw it in a time capsule and let future generations see it.