in
Life During Wartime
(Todd Solondz)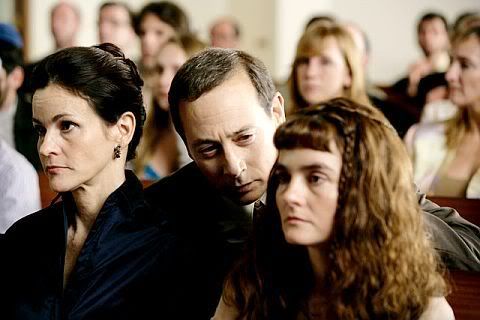 "A Dark...Dark Film"

Caught this film at the Toronto International Film Festival. Life During Wartime is a depressing and envelop pushing film that crosses boundaries, but never feels gross or shocking for the sake of it. For those familiar with Todd Solondz previous films Welcome To The Dollhouse and Happiness, you know what type of material is in his films. This one is no exception.
Telling the story of a dysfunctional family, we follow 3 separate stories. The father, who was just released from prison after some cruel and disgusting charges tries to find his son, to make sure he doesn't turn out like him. The son is in college, he has two siblings, a younger brother who is turning 13 and becoming a man with a bar mitzvah and a younger sister who is a karaoke singer. The wife/mother is looking for a new lover in her life and finds this other man who makes her, in her own words to her 12 year old son, wet. Finally the sister of the mother who mixes romance and her work. The problem is that death follows her wherever she goes and it has kind of driven her crazy. Even a small scene with a second sister is here in which she hides her depressed life behind fake smiles and success.
Get all that? This is my first Todd Solondz film, but I know of his previous films and what they dealt with and I can say that Happiness is darker. Life During Wartime isn't with it's fair share of uncomfortable scenes. Specifically the son asking about his father and why he is in prison. The father is played by Ciarán Hinds, who has little dialogue, but the scenes in which he confronts his son is powerful and stands as the most memorable. Paul Reubens plays an interesting character who only two scenes, but those two scenes are stand outs.
Everything about the film is awkward, straight from the beginning. There are moments that you laugh at, that make you feel dirty. Janey as the mother is comical and if you're a fan of Happiness look out for some recurring characters. It kind of plays out like a sequel (according to my friend, who's a fan).
The film is well shot and acted, it doesn't really drag, but it is slow. It's mostly scene after scene of conversations. It's not a laugh riot and there are no laugh out loud scenes. The comedy is dark and subtle at times. It's more dramatic and depressing than comedic. It feels short and the ending leaves a lot to be desired. It was abrupt and left a lot of questions unanswered.
It explores how well one can forgive someone and mirrors reality. It will divide the audience and fans of his earlier work will most likely be satisfied. I enjoyed it, but it's not a film I would want to see again. I give it credit for being a well done film and it's thought provoking in some scenes, as a whole the film is good. It just has a certain audience and you'll know if you're one of them or not.