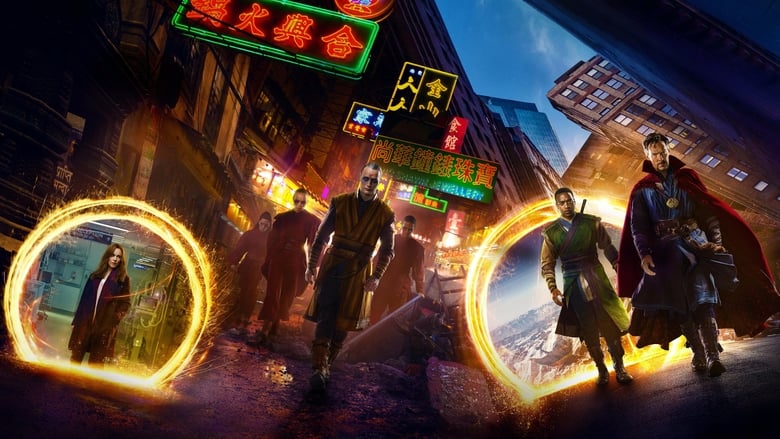 in
Doctor Strange
(2016)
Another character joins the Marvel Cinematic Universe and he's a longtime comic book character from Marvel that was due his own movie. Especially since special effects have advanced so much, the movie can tell his story without worrying about it being half-baked due to poor imagery. I realize that there is a conflict going on with movie fans, some of who are growing tired of being bombarded with CGI effects in movies, while others don't mind it. I don't mind it as long as it serves the story and in this case, the effects are absolutely necessary to telling the story and they're quite eye-popping.
Dr. Stephen Strange (a terrific Benedict Cumberbatch) is a big-time neurosurgeon with a massive ego who works alongside another fellow surgeon, his ex-lover Christine, played nicely by Rachel McAdams. Their interplay touches a lot on his self-interest, sometimes with humor, sometimes with touches of anger on McAdams' part. Strange is brought down low when he's involved in a horrific car crash that renders the nerves in his hands extremely damaged. The first third of the movie really dwells on his search for the repair of his hands, which comes up empty for him. He is then directed to Nepal by a person who was seemingly miraculously cured. He goes there with his ego in tow. He is finally admitted to a temple, hidden behind an innocuous-looking door. However, all is beyond his imagination behind the door. He meets a sorceress known as The Ancient One (played by a shaven headed Tilda Swinton, who looks oddly sexy without hair) who knocks him known constantly concerning his self-interest. He is shown unbelievable magical powers which he eventually learns to harness despite still retaining a bit of his rebellious side.
Eventually the mystics are called upon to fight against a former student of the Ancient One played with simmering evil by the excellent Mads Mikkelsen, who, with his followers, want to let the world be taken by a monstrous planet-consuming entity. It falls to Strange and the others to fight against Mikkelsen and his cronies, who bend reality in an effort to kill the good guys. These fights play out with an effect that seems like a cross between
The Matrix
and
Inception
with cities being warped beyond belief.
Everyone in the movie is game to bring this story to life and they succeed in spades. There are spots of humor that even out things when it seems the movie will get too heavy. A really funny ongoing joke involves a cape that seems to be alive, which "adopts" Strange and literally clings to him and protects him at times.
A truly fun, never dull adventure that is a welcome and slightly different part of the Marvel Universe. Well-acted and finely directed with skill by Scott Derrickson, who has directed such efforts as
The Exorcism of Emily Rose
and
Sinister
, and does a great job with this non-horror film. As with any Marvel movie, check out two during-and-after-credits additional scenes. Recommended for those who like the Marvel films, and I'm one of them.