\
in
"17"
MovieMeditation presents...
HIS FILM DIARY 2015

The year is no spelling mistake
total movie count ........... viewing day count
287
..........................
347
__________________________
December 14th
—— 1992 ——
reservoir
dogs
—— thriller ——
REWATCH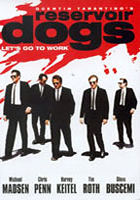 Quentin Tarantino's "shoot first, explain later" technique is already smoking hot
despite barely emerging from the barrel of future bad-assery with this debut feature!
His bullet rain dialogue is wild, rough around the edges, and wonderfully vigorous – watching Tarantino dodge the pitfalls he almost sets up for himself throughout is like walking through a pitch-black art gallery, soaked in gasoline, with nothing but a match box trying to get a glimpse of every image without burning yourself and the framework as you go. That might be the most obscure reference I have ever made. But anyways, also, the bumpy and low-budget feel only adds to the experience of a film fanatic filming his own luscious dream surrounded by huge talent to help him realize it. This is one of the best debut features ever made, for sure…
'Reservoir Dogs' isn't a perfect film, but it is more than you could ask for in a debut feature. Tarantino tactically plays with what he later perfected with 'Pulp Fiction' – showing the audience the other side of the main event – not constructing his movie to work towards the climatic momentum, but building the momentum around a classical example of a climax, in this case, a bank heist. It is everything that goes on outside of the robbery that really sells the movie; it is the characters before and after the heist that haul this movie home. It is the unconventional construction of the plotline that ignites the power, which then drives the story forward – the introduction of a seemingly typical group of people, who appear to know each other well; then comes the cold hard cut to the aftermath of a heist gone wrong; then the little sprinkles of backstory for each character throughout to eventually form and shape the movie after the fact.
'Reservoir Dogs' is as much an experiment as it is an example of building a plot and shaping a movie. Everything is turned upside down and Tarantino enjoys having his audience hang head-down, hands tied, to see the happenings from a different perspective, while the blood runs to our head as Tarantino shouts the boiling, spitfire dialogue straight into our ears as he dances around to his own inner music with our attention in his holy hands of hómage à trois between us and him as well as his violent and horny obsession with violence and cinema history. Being stuck in the middle of this scenario is quite the experience.
And if my mind doesn't feel just a little bit verbally and visually violated after a Quentin Tarantino movie it just isn't a Quentin Tarantino movie. And if the performances from the actors and actresses in a Quentin Tarantino movie isn't some of the best they have ever done, then I would equally question the legitimacy of it... The movie has an all-star cast delivering five-star performances inside the career-starting movie of a future mega-star film director. What's not to love here?
+
__________________________