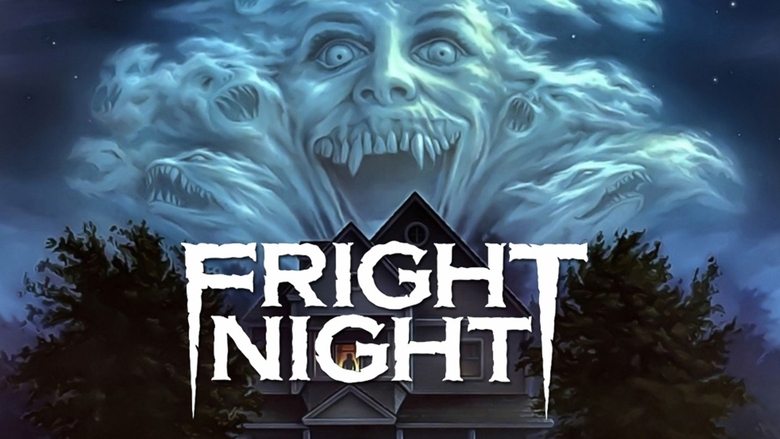 in
MovieMeditation presents...
HIS FILM DIARY 2015
total movie count ........... viewing day count
263
..........................
303
__________________________
October 31st
—— 1985 ——
FRIGHT
NIGHT
—— horror ——
If you love being scared...
it'll be the night of your life!
This was my Halloween midnight movie of past year and it was a long overdue film I was determined to watch and what better way or time than Halloween Night? Because in many ways, this vampire creature feature film is the perfect one to find a path onto a personal and peculiar filmic fright fest in the spirit of spirits, on All Hallows' Eve itself. I mean, with a title like 'Fright Night', it already seems to succumb itself into a truly terrifyingly good time and surrender to something that may be both humorous and horrific at the same time!
And thankfully so, it absolutely is the exact above! This is a movie that isn't straight up horror comedy, but oh my evil spirits does it entertain the hell out of you and with a tone that is like a match made in horror heaven! It makes you laugh, smile and feel scared and often all at the same time and it is a blast from the past of the popular 80s era, pouring out with the distinct campy, cheesy and bloody good fun! I can certainly relate and reside with the cult following this film has earned and all the love it has been given by film freaks and fright fanatics all over the world. And maybe surprisingly, this was indeed the first time I watched this vampire vanity of ever evolving entertainment.
I loved the satirical and ironic inside jokes and jabs the film had and the glimpse in the eye that was present throughout many parts of the scenes. The whole deal with the television actor playing priest turned real life priest and the towering performance by Chris Sarandon as the main manly next-door neighbor turned next-door demon are all things adding to the experience. The special effects are awesome and whatever they lack in modern standards they make up for in masterful mood setting and serious fun! The entire atmosphere in the movie is simply to die for and as stated earlier it is especially the ever changing tone that works wonders for the film as a whole. I'm constantly surprised by how fast and fluent this film can change its "filmic faces" and go from drama, to thriller to comedy and back again... "there and back again", a vampire's tale by Tom Holland.
+
__________________________