---
Man with a Movie Camera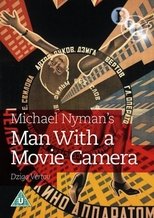 Released: Jan. 8th, 1929
Runtime: 1 hour, 8 minutes
A cameraman wanders around Moscow, Kharkov, Kiev and Odessa with a camera slung over his shoulder, documenting urban life with dazzling invention.
Reviewed by

TheUsualSuspect
At one scene the film begins to slow down, much like a train does when it arrives at a station, the music that accompanies these images begins to slow down as well, until we come to a complete stop.

Golgot
Basically, this film contains marvellous naturalism of subject matter combined with "state-of-the-art" 30s camera trickery.