---
Finding Nemo
Cast
Albert Brooks, Ellen DeGeneres, Alexander Gould, Willem Dafoe
View All
Crew
Andrew Stanton (Director), Andrew Stanton (Screenplay), Bob Peterson (Screenplay), David Reynolds (Screenplay)
View All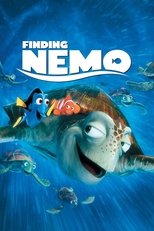 Released: May 30th, 2003
Runtime: 1 hour, 40 minutes
A tale which follows the comedic and eventful journeys of two fish, the fretful Marlin and his young son Nemo, who are separated from each other in the Great Barrier Reef when Nemo is unexpectedly taken from his home and thrust into a fish tank in a dentist's office overlooking Sydney Harbor. Buoyed by the companionship of a friendly but forgetful fish named Dory, the overly cautious Marlin embarks on a dangerous trek and finds himself the...
Reviewed by

MovieMeditation
I will just keep swimming, just keep swimming, just keep swimming, swimming, swimmin.
MovieMad16
A clown fish named Marlin living in the Great Barrier Reef loses his son, Nemo, after he ventures into the open sea, despite his father's constant warnings about many of the ocean's dangers.

SmudgeEFC1985
Just like previous Pixar films, setting a story under the sea gives them such a massive canvas of characters and set ups to work with, same as they could with toys, bugs and monsters.
View All (4)