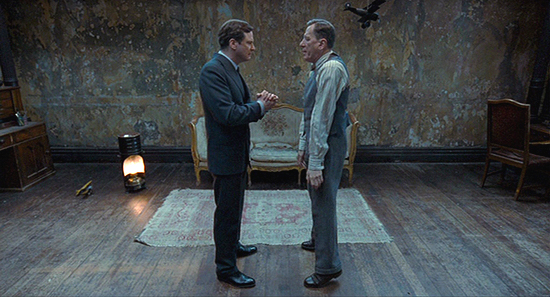 The King's Speech
( Tom Hopper 2010)
I enjoyed every single minute of this film! And I rarely feel that way about any movie. I'd seen this only once before, back when it first came out on DVD. I remember loving it then. So much so that I told a couple people about it, who then watched it and also loved it, which is pretty amazing in itself.
The King's Speech
is right up my alley for movie subjects. It's historical, it's biographical and it's about the British royal family. I've seen a lot of movies about the British monarchy and this tale of King George VI struggles with stuttering, was both illuminating from a historical viewpoint and quite entertaining in a heartfelt way. I actually laughed a number of times, no not at the stuttering, but at the clever witticisms that Lionel (Geoffrey Rush) blurted out to Colin Firth who played King George VI.
Geoffrey Rush was spot on with his role as the unconventional Australian speech therapist. He brought life and energy to the role and made a good film great. And Colin Firth made a good Prince Albert/King George VI too, he brought dignity and frustration. The frustration is what he felt by having the crown thrust upon him when his older brother who had been the King abdicated to marry an American divorcee.
I loved the look of the film, especially the funky room they spent a lot of time in...shown in the screen shot above. Glad to have rewatched this gem of a film.