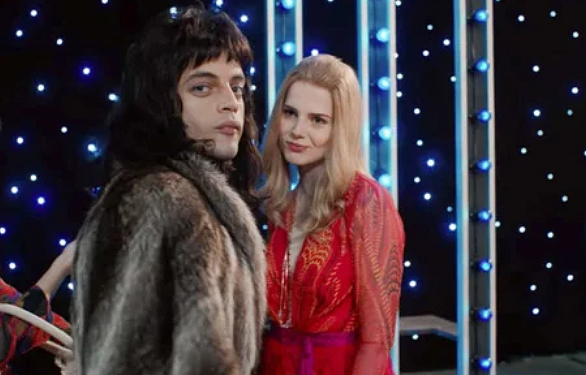 Bohemian Rhapsody (Bryan Singer, 2018)

A bit long in the tooth. I did like the first 1/3rd of the film where we meet a young Freddie Mercury and learn of family origins and of his chance encounter that brought him from airport luggage handler to lead singer of one of the biggest rock bands of all time. But I couldn't help but think that Rami Malek would have made a great Mick Jagger. In fact I kept seeing Mick in the early part of the film and not Freddie. But once the film progressed to where Mercury gets his trademark short hair and mustache look, he seemed more like the real deal.
IMO they overdid the prosthetic choppers. Yeah I know Freddie Mercury had an overbite but the prosthetic teeth looked fake to me and distracted me quite a bit. Even worse I started noticing that the actor had problems wearing them as in some scenes he would roll his upper lip down as if the fake teeth where bugging him. That didn't appear to be part of the acting either, but a naturalistic response by the actor to those huge choppers.
I have to say that I got bored in the middle of the film when it relied more on montage stage performances, than character/story building scenes. That felt like lazy film making. Though the Live Aid scenes that came at the end, did make up for some of the lackluster script...I got to believe the real Freddie Mercury had a BIG story to tell, sadly we only got a glimpse of that story here in what might be described as movie-making-by-the-numbers.
I never thought of it until you mentioned it here, but Rami Malek would make a terrific Mick Jagger.