Bright light. Bright light. Uh oh.
Tess
(Roman Polanski, 1979)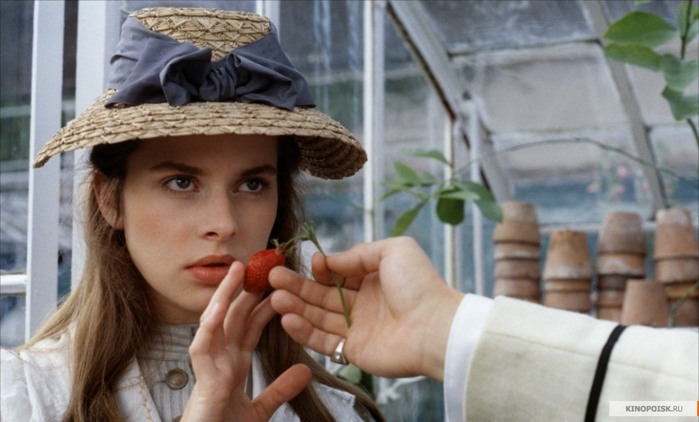 Sharon Tate gave husband Roman Polanski a copy of Thomas Hardy's
Tess of the d'Urbervilles
and told him that she thought it would be a good project for both of them. It was only after she was murdered that he got around to reading the novel and became excited about making a film of it. The results contain some of Polanski's most-beautiful imagery while reinforcing his theme of the darkness of human existence. Tess (played surprisingly effectively by teenager (Nastassja Kinski) is an innocent Wessex girl who's used by both her poor (but truly loving) family and two men she meets who seemingly represent two different sides of Victorian masculinity.
The plot to
Tess
is not confusing and presented rather straightforwardly. I'm not sure if I should go into it and too much detail. However, I will mention that the opening long shot should immediately draw any viewer into the movie. It shows a country road and we begin to hear music playing and see people approaching. It turns out that many people from the local village are going out to a field to have an evening May dance. As the people dance by the camera, we see young Tess among them, and as they pass by, we see the intersecting road where Tess's poor, drunken father (John Collin) is walking home and the local vicar passes by him on horseback, addressing him as "Sir John". It turns out that the vicar is an "antiquarian" who has studied the important high families in the area and determined that John Durbeyfield is actually descended from the House of d'Urberville. Unfortunately, the line is all dead, except for him and there is no money or property left. This sets the film in motion and begins Tess's tragic journey through misery and betrayal, and it's all the more unfortunate and powerful because she is a true innocent.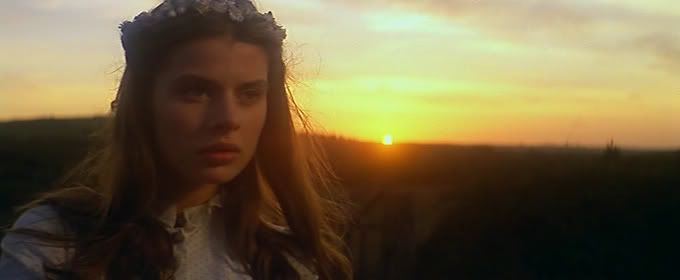 It's at the dance at the beginning that Tess first lays eyes on Angel Clare (Peter Firth), a free-living, blonde young son of a parson, but he picks another girl to dance with. Angel disappears from the rest of the opening act of the film, but Tess encounters another man in the form of Alec d'Urberville (Leigh Lawson), the son of an old woman who the family hopes is a rich relation who will help them. It turns out that all Alec cares about is getting his hands on Tess's beauty and doing with it what he will. That's enough of the plot, I believe, but needless to say that things are never truly happy for Tess for very long from here on in. She does meet Angel again, and they have a true romance, but as I said above...
Tess
is a scrumptious experience for both the eyes and the ears. Geoffrey Unsworth (
Cabaret, Murder on the Orient Express
) was the cinematographer, but unfortunately, he died while working on the film. After that, the filmmakers enlisted Ghislain Cloquet (
Love and Death, Au hasard Balthazar
) to finish the shooting, and both men were awarded the Oscar for Cinematography. Philippe Sarde composed what may be his greatest score, full of both beautiful melodies and ominous overtones, and although it was nominated for an Oscar, he somehow lost out to Michael Gore's
Fame
score. Polanski's work is not only technically flawless but very empathic to the character of Tess. The acting of all the principal characters is very good and adds to
Tess
's power to transport a viewer to another time and place. One of the film's producers, Claude Berri, is also the director of
Jean de Florette
and
Manon of the Spring
, two other projects which were filmed in the French countryside. [That's correct, although set in Hardy's "Wessex" (southwestern England), the film was shot in France because England's farms were all too modernized to use for filming.] I mention this because I will be watching those two French films soon because I just got them in the mail. I'm anxious to see if they were filmed on any of the same locations. I can't recall since it's been awhile since I've seen the Pagnol films.
__________________
It's what you learn after you know it all that counts. - John Wooden
My IMDb page