\
in
Day 90: July 29th, 2010
Insomnia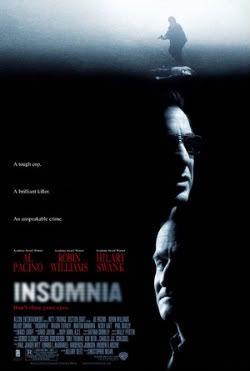 Days never end. Nightmares are real. No one is innocent.
Well, I've seen every Nolan film (even his student film) with the exception of The Prestige (expect to see that one pop up sometime on this list) and until now this one. Insomnia a remake with Pacino, Swank and Robbins. Most people view it as that other movie where Robin Williams is serious. Of course the other film is
One Hour Photo.
Here Robin Williams is not a creepy guy like his character in Photo, he's a normal joe.
Anyways, there is a murder in Alaska and two L.A. detectives are brought in to find the killer, in a town where the sun never goes down. Hence the title, our lead character gets insomnia. Pacino in his older years doesn't really need to look too tired, that's his natural essence now. He plays this role with a little less extravagance as we have seen before. He's suppose to be tired after all.
Nolan does a good job at keeping us interested in the case and the pace of the film works for this mystery thriller. The twist here is that the killer and Pacino have more things in common then they think. The film has to deal with more than one murder and the audience has to look at the cover up of one and the solution of the other.
While Insomnia is not one of his better known films it is still a well written and directed mystery. It doesn't necessarily pull you into the story that well nor do we get involved with the town folk. Insomnia has it's problems, but it still works on a level that most films don't. It was also made more Hollywood friendly compared to the Norwegian original.