\
in
Day 75: July 14th, 2010
Big Trouble In Little China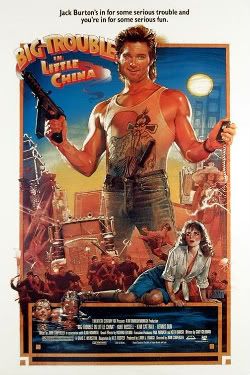 Feel pretty good. I'm not, uh, I'm not scared at all. I just feel kind of... feel kind of invincible...
...and boy did Kurt Russell feel invincible during that scene. A quick listen to the commentary track on the dvd is a pleasant surprise.
Truck driver Jack Burton, played by long time friend and collaborator of Carpenter, Kurt Russell, arrives in Chinatown and agrees to help out an old friend. But his old friend's fiancee is kidnapped, and this leads the pair down a mythical and dangerous road.
This isn't my favourite John Carpenter film, nor is it my favourite John Carpenter/Kurt Russell collaboration. Yet, it is still one hell of a fun and entertaining film. The film moves at an incredible pace and is never short on action. John Carpenter is responsible for the better half of the cheesy 80's. Mostly in his horror genre, which I am a fan of. After all, he is the master of terror, right? Yet, Big Trouble In Little China is such an odd film for him to take on that it makes a perfect fit. Does that make sense? No? Oh well.
Russell and Carpenter are great together, you can feel the chemistry between the two, even though one is always behind the camera. Russell gives us his wise ass shtick as Burton and the dialogue is great for this character. Russell makes one bad ass character here to go along with his Snake Plissken, another character that involves Carpenter.
Big Trouble In Little China is funny, action packed and is a joy to watch. It's absurdity adds to the level of cheese and awesomeness. Iro threw this on my list to watch when I did this last time, better late than never right?