in
'The Beasts' (2022)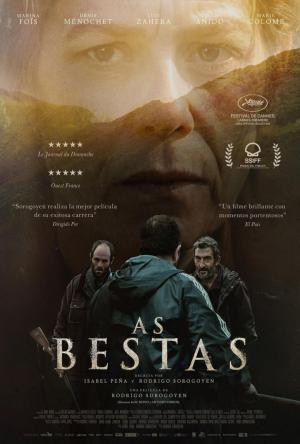 Taut rural thriller from Director Rodrigo Sorogoyen. A French couple; Antonio (Denis Ménochet) and Olga (Marina Foïs) move to Galicia in North Western Spain and start to live a more eco friendly, idyllic life. That is until they fall out with a local family, the eldest brother Xan (Luis Zahera) being the most hostile.
What follows is a dangerous feud that is hard to write about without spoiling, but it gets tense. Very tense. There is one superb scene in the local bar that is a single long take, and feels like the characters could errupt at any moment. The acting from Menochet and Zahera at this point is off the charts. It is so natural that the viewer feels like they are sat at a nearby table in the bar looking for the exits.
'The Beasts' probably takes it's name from the annual festival named 'shearing of the beasts' in the Galicia region that involves the locals gathering up the wild horses that roam and branding them. The very first slo-mo sequence shows this taking place. However, there is so much subtext in the film, that the title could refer to the huge wind turbines that dominate the sky line of the region, and provide a driver to the animosity between the two families in the film. It could refer to the outsiders, the beasts who have invaded the Gallician land that has been inhabited by the same families for decades. Or it could mean the families themselves who are overly hostile to any form of newcomer to their homeland.
Either way, The Beasts is a finely crafted, very well acted thriller which deserves to be seen by many.