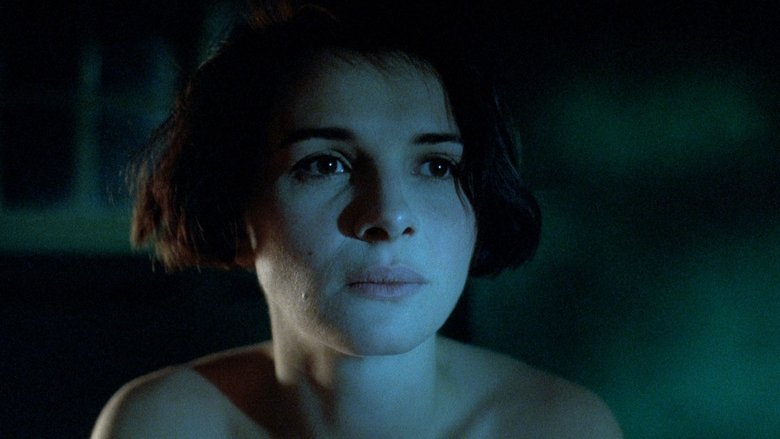 in
Three Colors: Blue
, 1993
Julie (Juliette Binoche) is the only survivor of a car accident that kills her husband, Patrice, and her daughter. While her instinct is to destroy almost all remnants of her previous life and live a life of solitude, she finds that being numb is not so easy to sustain. Between grappling with her husband's legacy---he was a famous composer, though there are rumors that Julie actually wrote or co-wrote much of his work--and struggling with revelations about his personal life, Julie cannot maintain distance from her feelings.
This film is a masterpiece. I'm obviously about to say a lot of nice things about it, but if you've been holding out on watching it, do yourself a favor and get it in front of your eyeballs ASAP.
It's hard to know where to begin with this film, but it feels right to start with Binoche's central performance, which is a brilliant portrayal of someone who is strong and yet vulnerable. Julie has experienced a significant trauma, and yet she manages to find a place for kindness and compassion for those around her. Julie, understandably, does not want to feel. And so when she does express emotion, you can see in Binoche's face the way that connections and feelings must push past an internal gatekeeper.
From a visual and directorial standpoint, I was completely swept away by this film. The blue of the title is very literal. The color permeates the film. What it represents---memory or emotion or grief--is hard for me to nail down at the moment, but I loved the way that it surrounds Julie, at times literally. The most concrete blue in the film is a sparkling gemstone mobile that is the only keepsake of Julie's daughter that we see. Julie takes it with her to her new apartment and several times during the film stops to gaze into it. But blue is also in the neon signs in the background, and in the unabashed tinting of several scenes, and in the large pool where she swims alone.
I also loved the stylistic choice to have certain sequences fade out and then fade back in. It somehow seems to capture the way that, when you're feeling an overwhelming emotion, it can seem to "fade" on you for a moment before you snap back to reality. I also loved how Julie and other characters move in and out of the frame. In one sequence, the young man who came on the car accident meets Julie to return a necklace to her. For several seconds, the necklace moves toward Julie, seeming to float in the air like a ghost--and for Julie that is certainly the effect of it.
Something I found very moving about the film is the way that Julie connects to other characters. The lesson of the film is not "cheer up! Other people have it just as bad!". Instead, Julie is able to find some semblance of balance through helping and supporting others. A homeless musician, or a woman from her apartment who is coping with the fact that she's spotted her father at a sex show in which she performs. It's not about Julie fixing their problems, but juts about her connecting with these people and making them feel seen. "You came, and that's the same thing," her friend tells her, when Julie gets out of bed at night to come and see her.
On a lesser note, I thought that the film had some interesting things to say about fame and legacy. Julie's husband was famous, and so people don't hesitate to badger Julie or take pictures of her still-bruised face in the wake of his death. Through the film, other people attempt to control her husband's legacy, at times in direct opposition to Julie's wishes. At one point, a news reporter remarks that he "belongs to all of us." The film doesn't seem to take a strong position one way or the other on this question, but it is interesting to watch Julie struggle with the way that others are comfortable using and/or manipulating her husband's work and life to their own ends.
Again: masterpiece. I'm so pleased I watched it and sorry it took me this long. I imagine a rewatch will be incredibly rewarding.