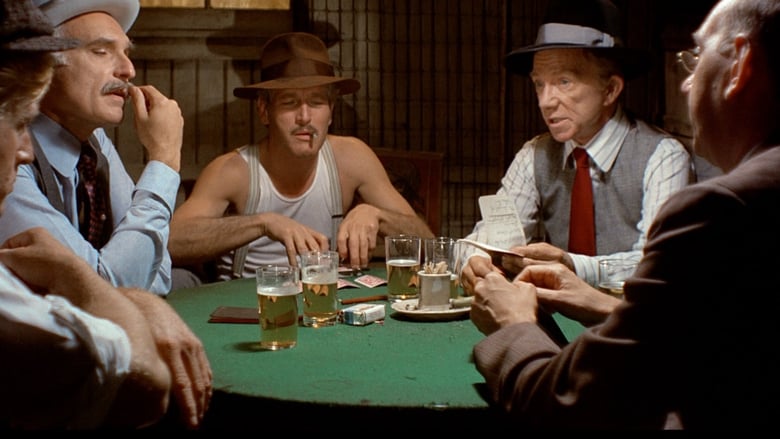 in
The Sting
(1973) - Direced by George Roy Hill
"Dukey, if this thing blows up, the Feds will be the least of our problems."
I've seen three movies directed by George Roy Hill (The Sting, Butch Cassidy and the Sundance Kid, and Slaughterhouse Five). I've also seen three Paul Newman movies... 4 if you caount Cars. The Sting is definitely my favorite involving both of them, largely due to the direction and heart put into the film.
Paul Newman reunites with Robert Redford in a Depression-era New Hollywood film about a grifter who seeks out a veteran conman hiding from the FBI in order to outcon a vicious crime boss in a grand scheme involving horse-race betting. But the FBI wants to use this young grifter to get close to their old enemy.
This was the second Paul Newman film I watched when I was trying to introduce myself to him and his art. The first was obviously Butch Cassidy. Now Newman was magnificent as Butch, but playing Henry Gondorff was a much better role for him. Newman was always great at playing the self-assured man, ever since he played in The Hustler. And Robert Redford beat his role in Butch Cassidy as well, playing a young conman that seems to have little knowledge of what he's really trying to do. But neither of them outshined the other. It takes a lot to go head-to-head with Paul Newman.
What I found interesting was how this movie pitted the famous duo from the classic western AGAINST each other at times, as if to totally shift the mood from two life-long buddies to something more mature and modern: a question of trust. That was a plot element made only more compelling by casting those two in their roles. That casting choice right there is a little bit of proof that George Roy Hill is underrated as a movie director.
And another notable thing about The Sting is its more positive outlook on the Depression, making things seem more worth-living rather than making the movie feel like a real depression. This gives you hope for the main characters to complete their goal, despite the moral conflict you may have with their methods.
I don't have any complaints about The Sting. If there ever was a must-see for an actor, it's The Sting for both Paul Newman and Robert Redford. Absolutely perfect.