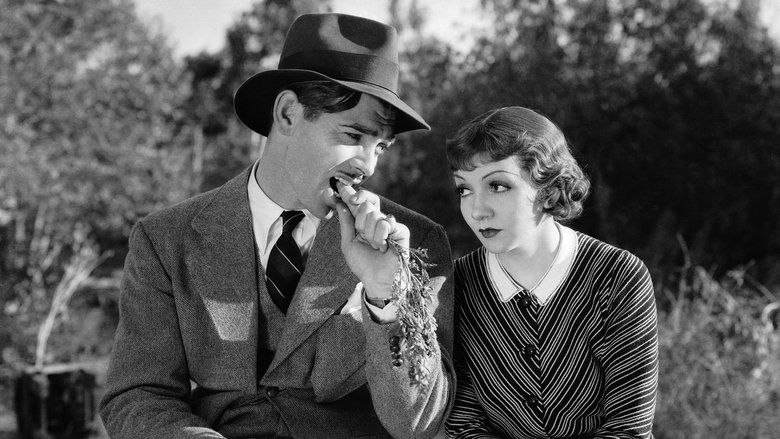 \
in
IT HAPPENED ONE NIGHT
The Granddaddy of all romantic comedies is the 1934 classic
It Happened one Night
, a sparkling adult comedy that not only inspired a lot of future cinema but was the first film to win all five top honors at the 1935 Oscar ceremony, including Best Picture.
Claudette Colbert plays Ellie Andrews, a spoiled, rich heiress who is being kept prisoner on her father's yacht until he can arranger an annulment of her recent marriage. Ellie manages to escape the yacht and get a train ticket to New York. It is on said train that Ellie meets Pete (Clark Gable), a recently fired newspaper reporter who, upon learning who Ellie really is, thinks there might be a story that could get him his job back.
Robert Riskin's screenplay is based on a short story by Samuel Hopkins Adams that is first rate comic adventure, beautifully brought to the screen in a series of very funny vignettes that do not confine all the action to the train and putting our two protagonists in a lot of sticky situations that force these two virtual strangers to trust each other and eventually bond. The story also keeps us wondering if Peter is going to sacrifice Ellie to the wolves in order to get his job back before he falls in love with her.
Of course, the real joy in this story is watching these two people who have absolutely nothing in common with each other, wonder how they are ever going to get along, let alone fall in love. It was so much fun watching Peter educate Ellie on various life lessons and survival techniques to which the self-absorbed Ellie was oblivious. I love when Peter teaches Ellie the proper way to dunk a doughnut, but they were a well-oiled machine when a detective sent by Ellie's father confronts them and they pretend to be a long married couple screaming at each other. It did seem odd that Ellie's father would send a detective to find his daughter and not give the guy a photo of her, but I let that slide.
In addition to its Oscar night blitz, this film made history with a couple of highlights. The "Wall Of Jericho" scene in which Peter throws up a blanket between his and Ellie's bed has been repeated and lampooned in dozens of movies and television shows...I love when he's sitting on his side of the blanket and quietly singing "Who's Afraid of the Big Bad Wolf?". And in the very same scene, female moviegoers went wild when Clark Gable removed his shirt to reveal a bare chest...apparently actors had always worn T-shirts before this scene and Gable properly underplays the moment to the point that now it seems silly. Oh, and let's not forget that great hitchhking scene.
Frank Capra's energetic direction is a big plus and won him the Oscar for Best Director. Gable won the Oscar for Best Actor, Colbert for Best Actress, and Robert Riskin for his screenplay. It's so odd to me that Gable won the Oscar for this but lost for playing Rhett Butler, but I digress. A delicious cinema classic that, despite some dated elements, holds up pretty well. The film was remade during the 1950's once as a musical called
Eve Knew Her Apples
and a straight comedy called
You Can't Run Away From It
with June Allyson, but I say stick to the original.