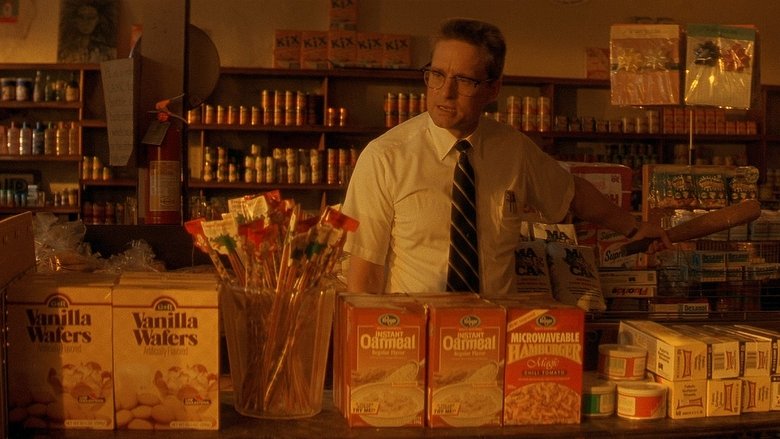 in
FALLING DOWN
Even Joel Schumacher, a director with a real hit and miss resume, has a masterpiece and for me it was an absolutely riveting psychological cat and mouse thriller called
Falling Down
.
This 1993 film is a chilling and intimate look at the decay of American society through the eyes of one man. Bill (Michael Douglas) is a former defense plant employer and divorced father of a little girl who has spent his life being pampered as a child, bullied and manipulated as an adult, and moved back with his mother after the divorce, which he is still in denial about. He also seems to be in denial about some mental health issues that he has been asked to address but has ignored said requests.
Bill's backstory reveals that he was laid off from his job about a month ago but he has still been leaving Mom's house every morning pretending that he's going to work. When we meet Bill, he is stuck in an LA traffic jam, en route to his daughter's birthday party, an event that he has not been invited to. Bill appears to snap while sitting in traffic, deserts his car and begins an incredible journey to see his daughter that finds Bill challenged at every turn and instead of accepting the complicated consequences of every day life, Bill decides to have things his way, resulting in a rampage of violence and destruction that includes murder.
We then meet Prendergast (Robert Duvall), a veteran LAPD desk jockey who was actually stuck in the same traffic jam with Bill, on his way to begin his final day of work as an LA cop, who keeps accidentally bumping into clues about what Bill is doing, which motivate him to get from behind his desk and catch this guy. Of course, Prendergast is given minimum support at first because of his lack of experience and the constant phone nagging of his mentally fragile wife (Tuesday Weld) also impedes his mission, but it is the meeting of these two characters, or the journey to it, that is the groundwork for this bone-chilling cinematic which I'm pretty sure had me holding my breath for about two thirds of the running time.
Ebbe Roe Smith's screenplay displays flashes of brilliance and does an amazing job of painting a portrait of the central character without actually telling us anything. Bill's backstory that I outlined above comes out in Schumacher's direction and the character's attitude instead of being outwardly stated. Bill's actions and reactions belie the kind of person he is and what he has been through and we understand his anger at the decay of American society and begin to like the way he actually fights back...we love when he pulls out his gun in a fast food restaurant and then complains because the hamburger he's been served doesn't look like the hamburger in the picture above the counter...it is from this moment on that we absolutely love this guy and we want him to get home to his daughter and anything else he wants, though we're pretty sure things won't be working out that way.
Michael Douglas should have received an Oscar nomination for this surprisingly controlled performance, rich with explosive unpredictability. We never know what this guy is going to do or say and no matter what he does, he evokes sympathy, thanks to Douglas and Schumacher and Duvall is solid, as always, as we watch him slowly piece together what is going on, Columbo-style. Mention should also be made of Rachel Ticotin as Prendergast's partner, Frederic Forrest in a flashy unforgettable cameo as a skinhead army nave store owner, and Barbara Hershey as Bill's paranoid ex, but it's Schumacher's shocking attention to detail and the bone-chilling performance of Michael Douglas that makes this film, which stretches credibility and plausibility at every turn, a story that will have you glued to the screen.