\
in
MovieMeditation presents...
HIS FILM DIARY 2015
total movie count ........... current day count
241
..........................
264
__________________________
August 4th
—— 2006 ——
L I T T L E
M I S S
S U N S H I N E
—— comedy ——
Everyone!
just pretend to be normal
This movie has been on my watchlist for years, but somehow it never truly interested me, apart from all the awarding praise shining down upon it. Somehow it just looked like one of those doubtful films about dysfunctional families, who tumbles around for the entire runtime, trying to appear comical in a confused kind of way. But before I begin to put this film in a good or poor light, how about we start examining the outer frame of this cracked family photo?
We follow the Hoover's, who are a very dysfunctional family living in Albuquerque, New Mexico. Sheryl is the overworked mother of two children, the first being Dwayne, her unhappy fifteen-year old son from a previous marriage, who has taken a vow of silence until he can accomplish his dream of getting into the US Air Force Academy in order to become a test pilot, the other being the beauty pageant determined contestant, Olive, who Sheryl shares with Richard, her arrogant and goal-obsessed husband, who is striving to build a career as a motivational speaker and life coach, which often causes further depression of Sheryl's gay brother, Frank, who is temporarily living at home with the family after a suicide attempt, which is often openly being brought up due to Richard's foul-mouthed father, Edwin, and his curious straightforwardness, who is also living with the family, after he was kicked out from a retirement home for snorting heroin, which was his new wild way of life after he finished his serving as a World War II soldier.
I would like to think that it is hard to come up with a company of characters, who are more dysfunctional than this one is. Portraying a weird and widely dissimilar family is clearly what this film builds itself upon, but that doesn't mean it isn't a fun time to follow them down the road to a potential failure. I would agree that it seems like there is an underlying layer of deeper emotions present, which moves this mess of a family into a more measured frame of reality. I personally don't think that this film dives deep enough into its characters' cracks and bumps, which is a shame, since I feel like it is mostly just riding the surface of things and thereby fails to be more memorable than the movies of its kind. Furthermore, this entire feature felt very predictable throughout, even stealing a couple of hilarities from other films, which made for some recycled fun, coming off a little less funny, since they were both anticipated and experienced beforehand.
That said, I wouldn't deny that I had a fun time with these strange characters and their journey cross country, but I just wish there was a little more to it than a few hints and squints here and there. This is a quasi-comedy with a curious blend of drama and comedy, resulting in a very likable though less daring routine road movie, which is running away in a controlled tempo, missing enough bumps and wrong turns to be the deeper and darker movie it should have been – or the lighter and more amusing comedy it could have been. Nevertheless, 'Little Miss Sunshine' is a fun time with fearsome actors, fitting costumes and some fairly solid writing and direction.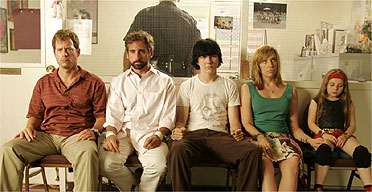 __________________________