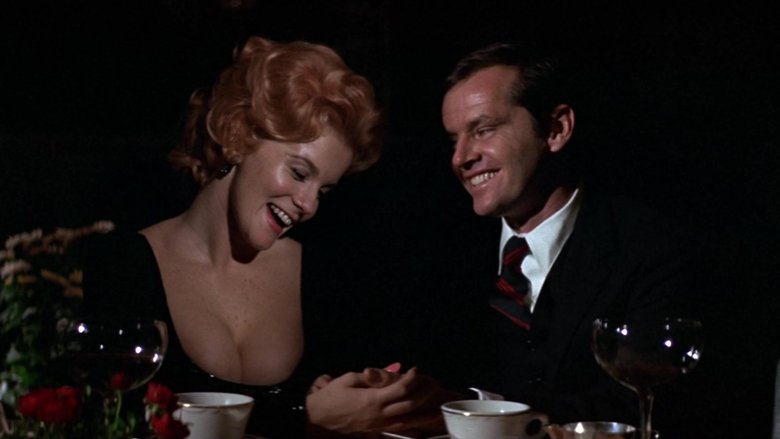 in
43. Carnal Knowledge
(1971)
Let's make it a Jack Nicholson double feature!
Carnal Knowledge
came out a year after Jack Nicholson's great succes with
Five Easy Pieces
. The film is directed by one of the most promising young directors of that time, Mike Nichols (who had great succeses with
The Graduate
and
Who's Afraid of Virginia Woolf?
before this).
Carnal Knowledge
is not as highly regarded as
Five Easy Pieces
or Mike Nichols' two first feature films these days, but it's still a very respected movie. The reason why it's often overlooked is probably because the film feels less like a fluent "whole". This movie explores a larger time field. We have Jack and Art in college in the beginning and we slowly see them developing into middle-aged men. Another reason could be the "suspension of disbelief" aspect. We're not only asked to imagine Jack Nicholsons and Art Garfunkel as college boys, but we also have to believe that Jack Nicholson is a virgin at the beginning of the film!
Anyway, those minor issues didn't bother me at all. I kind of love them even. It does not stand in the way from enjoying the darkly profound and hugely entertaining story that's being told.
As I already said, the film follows two young guys growing into mature men. Again, very much like
Five Easy Pieces
, the film is not trying to send some sort of message. The purpose of this film is showing us a cynical observation of certain aspects of the human condition. This film shows us some insightful stuff about the male psyche, about cruel sexual politics, about not being able to fully commit to someone and about the descent to meaningless, Epicurean and immoral behavior, caused by a man's utter frustration with himself and with the opposite sex he completely fails to fully understand.
I'm also a big fan of Mike Nichols' directing. He's always so creative and playful (especially in his earlier days), but at the same time it's obvious that he's in complete control of what he's doing. At his best, he can be a true visual poet and this film definitely has moments that show him at the top of his game.
Besides my love for the visual aspect of this film, I also love the script and of course the brilliant performances. There are four main players in this film and a couple of minor characters and I think they all did a great job.
The two most notable performances are from Jack Nicholson and Ann-Margret (God, I love that woman). Jack simply goes "all-in" and shows off how well (and extreme) he can play the egotistical, screaming douchebag, while Ann-Margret pulls off being vulnerable, seductive, despicable, sweet and absolutely gorgeous all at the same time! They are both fantastic to look at in this film and it's no wonder that the most widely popular scene from this film is an explosive piece of hugely entertaining acting between the two of them in a bedroom.
Acting doesn't get much more entertaining than in this long bedroom scene.
The most important factor of my love for this film, is something completely different, though. It's something that even the most perfectly constructed films very often lack. It's a very peculiar and above all, very personal quality that only a few films really have. The true reason why this film is one of my personal favorites is because I have the feeling that it's telling something sincere, something true. I really connected with this film's story and especially Jack Nicholson's character. I felt like a dark piece of my own mind was being exposed. The film doesn't particularly offer any satisfying answers concerning the character's issues and the different aspects of the human condition that are being observed, but that's not the point of this film anyway. The clever mocking of the issues that are being adressed and the cynical and darkly comical way the film tackles and explores its themes, are more than enough to make this a very enrichening and personal experience for me.
The combination of the self-awareness the story provokes and the sheer enjoyment I have when watching the film, makes for a very intense viewing every time I see it! I passionately LOVE this picture.
Jonathan (Jack), a mysoginistic and rotten character showcases all the so-called female "ballbusters" of his past in a slideshow...
--------------------------------------------