\
in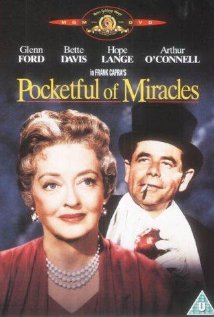 A Pocketful of Miracles
is a sparkling 1961 comedy, based on a Damon Runyan work, that was the final directorial assignment of the legendary Frank Capra. It is actually a remake of a 1933 film called
Lady for a Day
.
This film stars Glenn Ford as Dave the Dude, a highly superstitious gangster who buys an apple every day from a peddler named Apple Annie (Bette Davis) because he believes her apples bring him good luck. One day, Dave panics when Annie is not at her usual spot peddling her wares. Upon tracking her down, he learns that she is frightened because she is about see her daughter Louise for the first time since she was a child. Louise has been living a luxurious life in Spain with a wealthy Count and his son, to whom she is engaged. Annie admits to Dave that she has exaggerated about her life in the letters that she has written to her daughter, so Dave, with the assistance of his moll, Queenie Martin (Hope Lange) decide they are going to make Annie appear like a queen for her daughter's visit.
This classic comedy effortlessly utilizes Damon Runyan-like characters in a warm family story that is irresistible. Davis has rarely been so warm and vulnerable onscreen and it is fun seeing her reunited with Ford for the first time since the 1941 melodrama
A Stolen Life
. Peter Falk received a Best Supporting Actor nomination for his hilarious performance as Joy Boy, Dave's stooge. The impressive supporting cast includes Arthur O'Connell, David Brian, Edward Everett Horton, Sheldon Leonard, and Thomas Mitchell. Ann-Margret makes her film debut here, playing Louise, but the most pleasant surprise here is the performance by Hope Lange as Queenie Martin....this kind of character is such a refreshing change of pace for Lange. Queenie is brassy and unsentimental, a stark contrast from the "Cut-my-arm-off-if-it-will-make your-life-easier" characters that she usually played.
For a film that is almost 60 years old, this film still impresses thanks to an entertaining story, a sterling all-star cast, and the directorial magic of Frank Capra. 8/10