---
Apollo 13
Cast
Tom Hanks, Bill Paxton, Kevin Bacon, Gary Sinise
View All
Crew
Ron Howard (Director), William Broyles Jr. (Screenplay), Al Reinert (Screenplay)
View All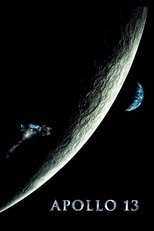 Released: Jun. 30th, 1995
Runtime: 2 hours, 20 minutes
The true story of technical troubles that scuttle the Apollo 13 lunar mission in 1971, risking the lives of astronaut Jim Lovell and his crew, with the failed journey turning into a thrilling saga of heroism. Drifting more than 200,000 miles from Earth, the astronauts work furiously with the ground crew to avert tragedy.
Reviewed by

Gideon58
This is all laid out in elaborate but functional detail as it is revealed that Jim Lovell (Tom Hanks), Frank Haise (Bill Paxton), and Ken Mattingly (Gary Sinise) were originally....

Citizen Rules
It was a short in one of the oxygen tanks, and when the tanks were electrical stirred, the short ignited the oxygen resulting in a huge explosion that ripped part of the service module outer wall away.
Fabulous
Always being up to watch a real historical drama, I went in with high hopes.
View All (4)