---
Rear Window
Cast
James Stewart, Grace Kelly, Wendell Corey, Thelma Ritter
View All
Crew
Alfred Hitchcock (Director), John Michael Hayes (Screenplay)
View All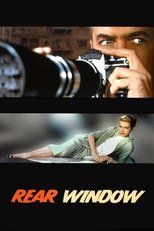 Released: Aug. 1st, 1954
Runtime: 1 hour, 52 minutes
Professional photographer L.B. "Jeff" Jeffries breaks his leg while getting an action shot at an auto race. Confined to his New York apartment, he spends his time looking out of the rear window observing the neighbors. He begins to suspect that a man across the courtyard may have murdered his wife. Jeff enlists the help of his high society fashion-consultant girlfriend Lisa Freemont and his visiting nurse Stella to investigate.
Reviewed by

dadgumblah
Visiting him frequently is his beyond-beautiful, high society girlfriend, Lisa, played by the, again, beyond-beautiful Grace Kelly.

Gideon58
Jeff shares his theory with his wealthy, self-absorbed girlfriend Lisa (Grace Kelly) and his nurse/housekeeper, Stella (Thelma Ritter), who are both initially skeptical about what Jeff thinks he has seen but are eventually on board with Jeff and want to help him nab this guy.

Citizen Rules
He passes his spare time by spying on his neighbors, watching their lives through the rear windows of their apartments that faces his.
View All (12)