---
La Strada
Cast
Anthony Quinn, Giulietta Masina, Richard Basehart, Aldo Silvani
View All
Crew
Federico Fellini (Director), Federico Fellini (Screenplay), Tullio Pinelli (Screenplay), Ennio Flaiano (Screenplay)
View All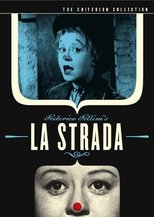 Released: Jul. 16th, 1954
Runtime: 1 hour, 44 minutes
A traveling strongman, Zampano, repays the death of Rosa, his assistant, by offering the same job to little sister Gelsomina, whose mother receives compensation in return.
Reviewed by

mark f
Thus, Gelsomina becomes a possession for the strongman to use in whatever way he sees fit, including sexually. The thing is that the strongman only takes and never gives.

Citizen Rules
Like a feather in the wind Gelsomina is tossed around by the negativity of the strong man all while keeping trying to keep her innocents.