---
La Strada
Cast
Anthony Quinn, Giulietta Masina, Richard Basehart, Aldo Silvani
View All
Crew
Federico Fellini (Director), Federico Fellini (Screenplay), Tullio Pinelli (Screenplay), Ennio Flaiano (Screenplay)
View All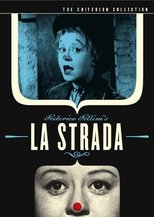 Released: Jul. 16th, 1954
Runtime: 1 hour, 55 minutes
When Gelsomina, a naÔve young woman, is purchased from her impoverished mother by brutish circus strongman ZampanÚ to be his wife and partner, she loyally endures her husband's coldness and abuse as they travel the Italian countryside performing together. Soon ZampanÚ must deal with his jealousy and conflicted feelings about Gelsomina when she finds a kindred spirit in Il Matto, the carefree circus fool, and contemplates leaving ZampanÚ.
Reviewed by

mark f
Thus, Gelsomina becomes a possession for the strongman to use in whatever way he sees fit, including sexually. The thing is that the strongman only takes and never gives.

Citizen Rules
Like a feather in the wind Gelsomina is tossed around by the negativity of the strong man all while keeping trying to keep her innocents.