43.
Evil Dead II: 1987 (R) -1
USA / Rosebud Releasing
98% (CF)
The man… the legend… The chin. My friends this is the perfect blend of two awesome genres; horror and comedy! With all the blood and practical effects of a slasher flick with all the slapstick of The Three Stooges; and when you add in the charisma and sheer awesomeness of Bruce Campbell and some one-liners; you get a pretty spectacular movie. If the premise of a man reading from an ancient tome that resurrects undead beings called the Deadites in a cabin in the woods, and he has to fight them off with a chainsaw and a boom-stick does not appeal to you, you can pass on this one. It is just as it sounds, and I absolutely love it!
This is another movie that was discovered on the shelves of Blockbuster Video. Though it was not through this movie, I was first introduced to this series via Army of Darkness. Fell in love with the premise and character, and eventually saw the other two movies. But my clear favorite is this installment. A reimaging of the first Evil Dead rather than a true sequel
, this is a fan favorite for any true fan boy.
this is pretty much exactly my experience of this movie as well. saw Army of Darkness first, thought it was a cool premise, and then LOVED Evil Dead II on first impact... you rented yours from Blockbuster Video, i rented mine from my school's library
loved all the gags, & my favorite 'inside joke' about this movie is that Ash is foolishly taking a trip to a cabin in the woods
for a second time
.. summons demons into our world through a supernatural book for
the second time
. sure, maybe his girlfriend gets possessed, he loses a hand, and gets sucked into a time-warp that sends him to medieval times ~ yet the way it is conveyed makes me want to foolishly return & do the adventure again too!
demon-book, laughing deer, chain saw - sawed-off shotgun combo, CHIN!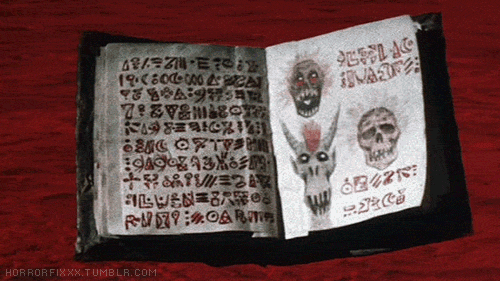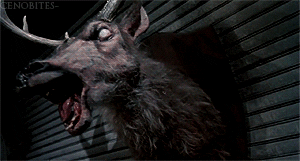 Last edited by Nostromo87; 03-10-14 at

09:41 AM

.