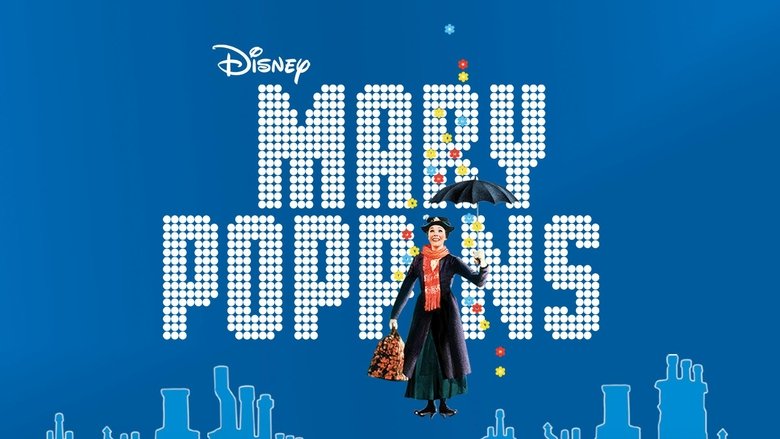 \
in
After losing the role of Eliza in the film version of
My Fair Lady
, Julie Andrews got sweet revenge and an Oscar for her film debut in 1964's
Mary Poppins
, a dazzling, enchanting family musical which was personally overseen by Walt Disney himself, who hand-picked Andrews for the title role.
Based on the books by P.L. Travers, this film centers around the Banks family of London 1912, whose most recent Nanny (Elsa Lanchester)has just quit after the children (Matthew Garber, Karen Dotrice)have run away again chasing an out of control kite.
George Banks (David Tomlinson) begins to advertise for a new Nanny when the children come to him with their own advertisement, which George dismisses, tears up, and throws in the fireplace. We then see the pieces of the children's advertisement float up the fireplace. Enter Mary Poppins (Andrews), the "practically perfect" nanny who arrives to interview for the job with the children's advertisement in her hand, all taped together.
What follows are a wonderful series of adventures including a magical housecleaning of the nursery, a tea party on the ceiling, a country holiday in a sidewalk chalk drawing, and a dance session on the rooftops of London with about 100 chimney sweeps.
This is movie magic at its zenith, and it is just as entertaining now as it was 50 years ago. It is definitely a family film, but there are lovely adult touches in the screenplay...I love the way it is implied that Mary and Bert (Dick Van Dyke), the chimney sweep/jack-of-all-trades, have met before this movie takes place but it is never really discussed. I also love the way Mary never admits to having any kind of magic powers and after each adventure tells the children it was all in their imagination.
This was the most memorable example of mixing live action with animation during the "Jolly Holiday" scene, which is absolutely delightful.
The sublime musical score includes "A Spoonful of Sugar", "Chim Chim Cheree" (which won the Oscar for Best Song), "Step in Time", and of course "Supercalifragilistiexpialidocious."
Andrews and Van Dyke are given solid support from Tomlinson and Glynis Johns as Mr. and Mrs. Banks, Hermione Baddeley as their maid, Reta Shaw as their cook, Ed Wynn as Uncle Albert, and Arthur Treacher as a Constable.
If you have never seen this film, or more importantly, if your kids have never seen it, go out and get the DVD today because this film continues to enchant generation after generation because it is the perfect family film.