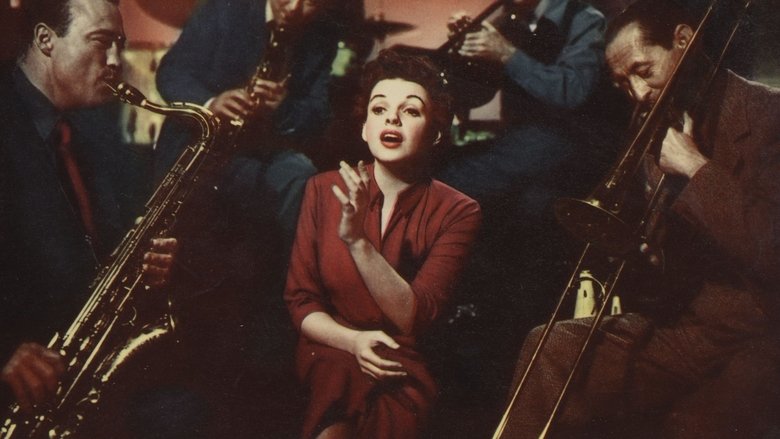 \
in
The 1954 version of
A Star is Born
is the second of three versions of the classic Hollywood story, originally conceived by William Wellman about an up and coming star who falls in love with an alcoholic Hollywood legend whose best years are behind him.

Judy Garland delivered the performance of her career that should have won her an Oscar, as Esther Blodgett/Vicki Lester the rising star who falls for her mentor, Norman Maine (James Mason), a Hollywood icon who can't get work anymore because of his drunken escapades. This film, produced by Judy's husband at the time, Sid Luft, was severely edited after initial release; however, a lot of that footage has been restored over the years with some stills inserted and the film now looks like the story Garland and Luft wanted to bring to the screen.
Judy's weight appears to fluctuate throughout the film; however, her voice is at its peak. Her performance of "The Man that Got Away" is chilling and the 15-minute "Born in a Trunk" sequence is regarded as a mini-classic in itself. Judy earned her first Oscar nomination for Outstanding lead actress for her performance in this film. Her win seemed to be such a lock in Hollywood that reporters and TV cameras invaded Garland's hospital room on Oscar night. She had just given birth to her son Joey. When the envelope was opened and Grace Kelly was announced the winner, the reporters and cameras were gone in about two minutes.
James Mason, also nominated for an Oscar,is tragic and heartbreaking as Norman Maine and there is solid support from Charles Bickford and Jack Carson (wonderful as an acid-tongued agent). Hollywood in the 1950's never looked s glamorous and appealing and Judy's last great musical is a cherished classic that is still worth watching after almost 50 years.