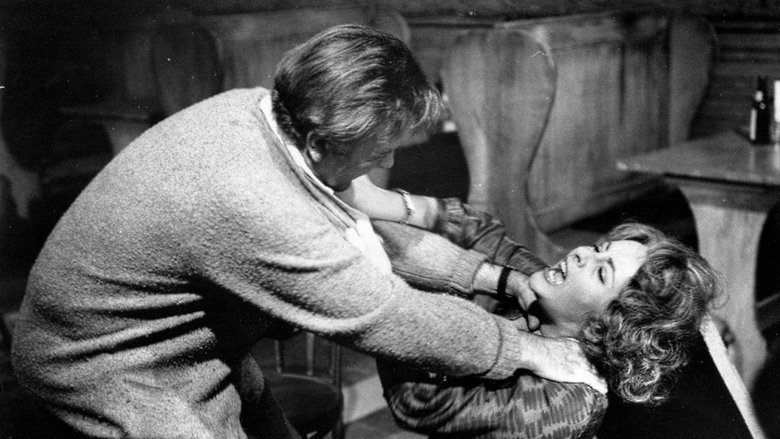 in
One of the most amazing films to come out of the 1960's was the film version of Edward Albee's absurdist vision
Who's Afraid of Virginia Woolf?
When I was in a high school acting class, my teacher told us he wanted us to see an example of really great acting and he introduced me to
Virginia Woolf
for the first time and I must agree.
This scathing 1966 drama follows a drunken night between two college professors, one young and one not so, and their wives and the secrets, lies, and revelations that come out during their drunken encounter.
Elizabeth Taylor won her second Oscar for her performance as Martha, a character who redefines the term "shrew", the older professor's wife and the daughter of the president of the college(a character who we never meet but is mentioned throughout). Taylor pulled out all the stops for this performance...she put on twenty pounds, wore extra padding, grayed her hair, wore false teeth, and pitched her voice extremely low and buried her English accent for the most part to deliver the most electrifying performance of her career. Some found it over the top, but I find the performance continually fascinating and treasure the little nuances I discover in Martha upon repeated viewings.
Richard Burton was robbed of a Best Actor Oscar for his performance as George, Martha's emasculated husband who does his best to learn the rules of Martha's little games as fast as she can change them. Burton is just as funny as he is heartbreaking and beautifully underplays in order to allow Taylor to shine. George Segal and Sandy Dennis (also an Oscar winner)provide solid support to the Burtons as the new young professor and his wife, who fall victim to the twisted machinations of George and Martha.
This film was considered quite controversial in 1966. It seems quite tamer now but still packs an emotional wallop and is not for the faint of heart. Mike Nichols' intense direction and loving attention to Albee's script are a big plus here and help to make
Who's Afraid of Virginia Woolf?
a shattering and haunting film experience that stays with you long after the final fade-out.