in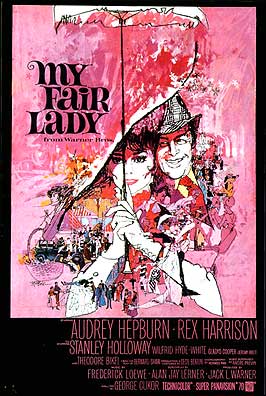 My Fair Lady
is the 1964 film version of the Lerner and Lowe Broadway musical, based on Shaw's
Pygmalion
,
that won nine Academy Awards, including Best Picture, beating out films like
Mary Poppins
and
Dr. Strangelove
and finally garnering a Best Director Oscar for the legendary George Cukor.
For those who've been living under a rock since the 1960's, this is the story of a cockney flower girl named Eliza Doolittle who is transformed into a sophisticated lady through the art of learning how to speak properly by a phonetics professor named Henry Higgins.
Rex Harrison won the Best Actor Oscar for recreating his Broadway role as Professor Higgins, the confirmed bachelor who allows his new creation to get under his skin.
Eyebrows were raised in Hollywood when the role of Eliza Doolittle went to Audrey Hepburn, instead of the role's originator, Julie Andrews, who earned sweet revenge by winning the Best Actress Oscar the same year for
Mary Poppins
. Hepburn is lovely as the transformed Eliza, but is less convincing as the dirty-faced cockney flower girl. Hepburn's singing was dubbed by Marni Nixon, who also sang for Natalie Wood in
West Side Story
and for Deborah Kerr in
The King & I
. Wilfred Hyde-White and Gladys Cooper provide solid support as Higgins' friend who helps with the transformation and as Higgins' mother, who befriends Eliza when she really needs a friend.
This movie is exquisitely mounted, with Oscar-winning production design and stunning, Oscar-winning costumes by Cecil Beaton. The original score to the musical comes to the screen almost completely intact, highlights being "Wouldn't it be Loverly", "I've Grown Accustomed to her Face", "I Could Have Danced All Night" and "Just You Wait." This is a textbook example of how to bring a Broadway musical to the screen. A joy from start to finish.