in
CHICAGO
The 2002 screen version of the Kander/Ebb/Fosse Broadway musical
Chicago
was a long time coming but well worth the wait.
This amazing musical became the first musical to win the Oscar for Best Picture since 1968 and helped to pave the way for the return of musicals to the big screen.
When the film rights were first purchased for this musical over 20 years ago, Goldie Hawn and Liza Minnelli had been announced to be the stars, which gives you a good idea as to how long this project stayed on the shelf. Thank God, Harvey Fierstein, Miramax, and the amazing Rob Marshall finally found a way to bring the project to fruition.
This dark and slightly jaundiced musical traces the tale of two ladies Roxie Hart (Renee Zellwegger) and Velma Kelly (Catherine Zeta-Jones) who have committed murder and use their notoriety as murderesses to become stars. Richard Gere plays the slightly unscrupulous lawyer who is trying to keep both girls from being convicted of murder in order to collect his fat fee.
In the stage musical, the scenes are introduced as vaudeville acts and director Marshall cleverly legitimized this set-up for the film by making the entire film a dream of Roxie's by opening the film with a closeup of Zellweger's lovely blue eye which segues directly onto the stage of the Onyx, the nightclub where Zeta-Jones (in an electrifying performance that won her a Best Supporting Actress Oscar)is seen washing the blood off her hands before going onstage to perform the show's signature song, "All that Jazz" while Roxie is seen murdering her scummy lover (Dominic West) and trying to get her husband (John C. Reilly) to cover for her.
This film is a feast for the eyes and ears and Marshall has definitely channeled Bob Fosse in his staging of the musical numbers. "Cell Block Tango", "They Both Reached for the Gun", "Roxie", "Razzle Dazzle", and "All I Care About" are just amazing.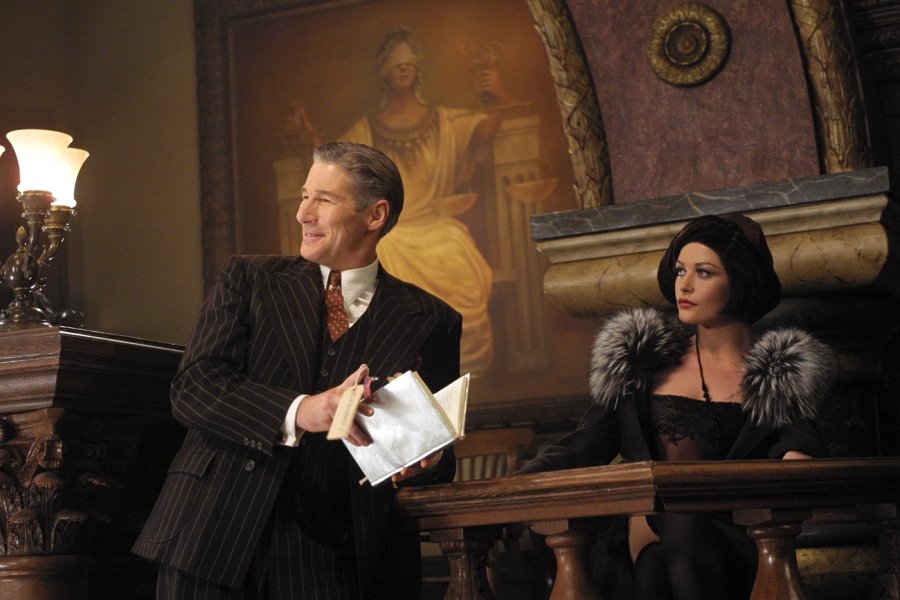 The performances are uniformly first-rate, with special mention to Queen Latifah as Mama and John C. Reilly as Roxie's husband, Amos, who stops the show with "Mr. Cellophane." Five numbers from the original score have been cut but there was only one ("Class") that I really missed. Otherwise, this musical is a must-see. I think even people who don't like musicals might even enjoy this one. A joy from start to finish.