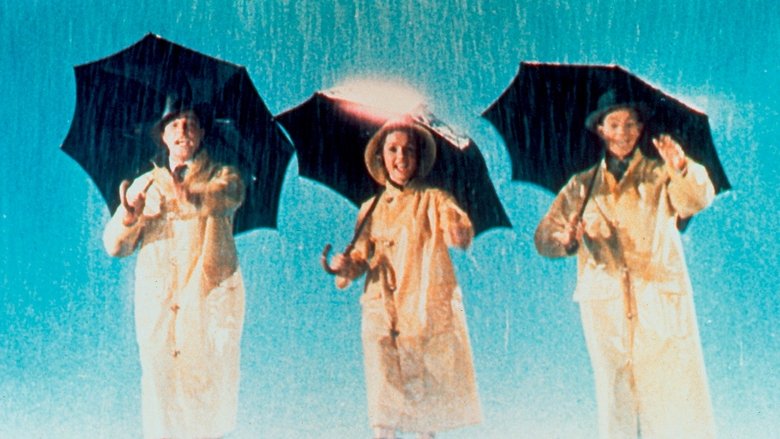 in
9.
Singin' in the Rain
Stanley Donen & Gene Kelly, 1952
Story & Screenplay by Adolph Green & Betty Comden
Gene Kelly, Debbie Reynolds & Donald O'Connor
Music & Lyrics by Nacio Herb Brown & Arthur Freed
"She can't act, she can't sing, she can't dance. A triple threat."
Singin' in the Rain might be the only film that is more purely fun than Back to the Future. Easily one of the best musicals to come out of the Hollywood studio system, my favourite film of the 1950s and one of the most entertaining, heart-warming films ever made.

Gene Kelly was a great actor and a phenomenal dancer and his performance as Don Lockwood is probably his most sensational turn. He's brilliantly charming as the silent movie star in flux. The supporting players, too bring something unique and magnetic to each of their characters. The goofy charm of Donald O'Connor, whose Make 'em Laugh is a relic but no doubt an interesting one, showcasing his physical talents, and the cute-as-a-button Debbie Reynolds as the innocent but ambitiously strong-willed Kathy. The three of them have fantastic chemistry, perhaps never more apparent than in the wonderful Good Morning.




"You have to show a movie at a party. It's a Hollywood law."



The majority of the praise rightfully goes to the music, of course. It's a perfect musical, mixing the romantic, the upbeat, and the downright insane, conveying it all through beautifully written and, for a couple, now rightly-iconic songs. I'm certainly no expert or even, usually, an enthusiast when it comes to dance, but here, for some reason, I'm a sucker for it. The choreography is endlessly pleasing, and each actor brings something different to the table. Kelly's expertise, Reynolds' enthusiasm, and O'Connor's wild energy make for a fantastic combination. To that end not much is ever said about the narrative, but it's a lovely, simple one, a self-referential, somewhat meta one, a film about film, that allows for a lot of humour, as well as pathos, and sets up each musical number with a deft hand.

Maybe I'll try to add a video of a favourite scene or moment in every entry of my top ten, like I did with Back to the Future, if I can find something. Singin' in the Rain's titular number has burrowed itself deep into pop culture's subconscious, but my personal highlight is the wonderfully catchy, upbeat and energetic Good Morning.