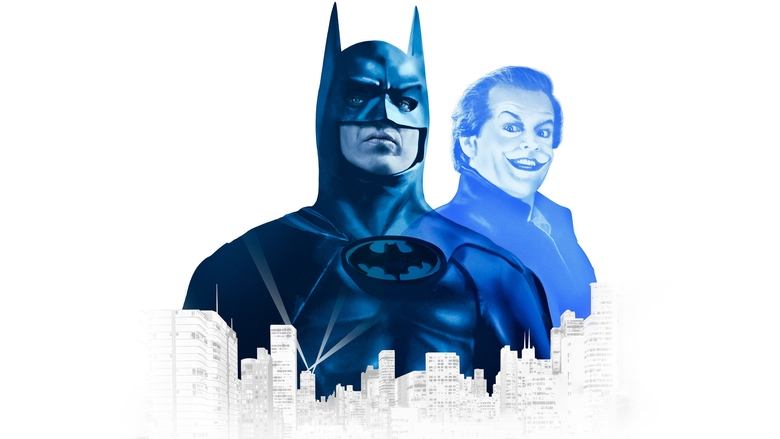 \
in
1989: Batman
1989 had some good films, albeit only two great ones. My main runner up is
Field Of Dreams
. It's overly sentimental, but still an entertaining and inspiring tearjerker. My other runner-up is
Indiana Jones & The Last Crusade,
which is the third best in the original trilogy, but a fun film, mostly due to the presence of Sean Connery. Other films I liked from 1989 were
Born On The Fourth Of July, Driving Miss Daisy, Lethal Weapon 2, Ghostbusters II
and
Back To The Future Part II,
which in my opinion, is a very underrated sequel.
Gotham City is plagued by crime and Batman's mission is to stop it. To add to Batman's problems, a new villian rises in the form of the wild Joker, who plans to bring chaos to Gotham, and Batman's alter ego's love interest, Vicki Vale.
Batamn, along with Superman, is my favourite superhero of all time and I use to believe this was the ultimate Batman film. But as I grew older, I found a few flaws with the film that marked it down for me. Still, it's a very over-the-top cinematic experience and you really can't take your eyes off it.
Batman
is an amazing film in the technical category. Tim Burton's direction keeps the atmosphere of the film dark, but never mean spirited. It always has a light tone and remains overly entertaining throughout. The production design is wonderfully gothic and incredibly suitable for the Batman story. The action scenes are nothing short of exciting, every single time I see them, especially the final showdown between good and evil.
Of course, I can't go on without mentioning Jack Nicholson's performance as the Joker. He steals the show, with his increasingly quotable dialogue and crazy antics. He doesn't portray much depth to the character, but he's still a whole lot of fun to watch, whether he's dancing to Prince or electrocuting a man with a buzzer ring. And his laugh: awesome.
So far, in this review, it would sound like I love this film and consider it to be one of the best ever made. I do love this film and I do think it is one of the best ever made, but it does have it's flaws. For a Batman film, it's central character doesn't have much screentime and the rest of the characters are all underwritten. It's obvious that they are pushed aside for Nicholson's manic performance, but as a Batman fan, I would have liked to see more depth in the characters and it's storyline.
As a character piece, the film doesn't really work for me. But as an action film, it works as a dazzling ride with impressive production design and a wonderful central performance from Jack Nicholson. It's definitely a film to be enjoyed. One of the most entertaining films of the decade.
+