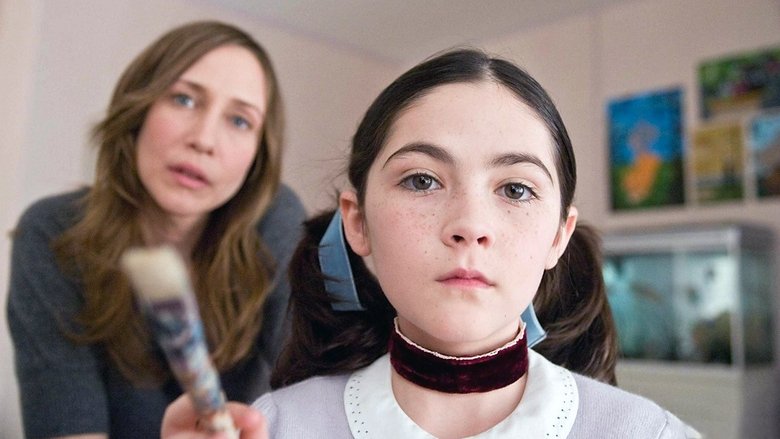 in
Connor Macgregor Reviews...Orphan
My uncle said this film was really creepy...so kind of dissapointed now that i have seen it.
Kate and John Coleman are rebuilding their troubled marriage. Kate had a drinking problem, but is in therapy and is doing well. She has been sober for one year. The couple decides to adopt a child. When they meet the nine-year-old Estonian girl, Esther, at the St. Marina Orphanage, they immediately fall in love with the well-educated orphan. Their young son, Daniel, is hostile to his new sister; but their deaf-mute daughter, little Max, is enchanted with her - at first. Eventually, Kate begins to feel that Esther is manipulative and possibly even psychologically disturbed. John refuses to listen to his wife's misgivings, and the wounds in their marriage reopen. Kate calls Sister Abigail at the orphanage, and the nun informs her that Esther has a troubled and mysterious history. Kate delves further into Esther's past and discovers she is not at all who she pretends to be.
This film`s story is rather similar to an over the top soap opera story (UK and US). They introduce a character your not so sure on and build them up to be increasingly evil. The actress who plays Esther acts pretty well and is another one of those young talents that is slowly making her prescense known. Vera Farmiga is another actress in this film i really like and this film proves that she is capable of anything.
However here is the problem. Its too fakey for me. An Orphan Girl turned Killer. Its not very realistic. You could argue that the majority of Horror Films are unrealistic and thats true. But with the setting of the murders , you actually believe that they could happen in real life. With Orphan its highly undoubtable that you adopt a child and she turns out to be mad. Also the final 10 minutes acts more like a Thriller than a Horror. In fact the majority of The Film acts like a thriller. You expect every scare coming and The Killer isn`t really that imtimadating. If i wanted to , i could kill her.
Overall , Good B Movie fun but thats about it nothing really else to say. Rent It if you can.
Rating - 61% - B