\
in
The Town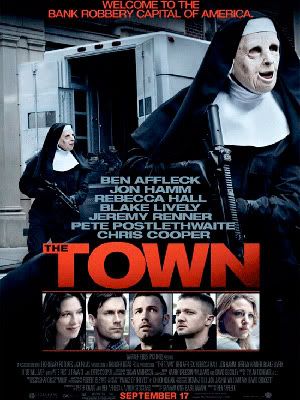 A bank robbery goes a little different than planned when one of the robbers takes a hostage. Doug (Affleck) has to duty to check up on the hostage after she is let go, to see if she knows anything about the crew. Surprise, they start dating. Can he continue his life of robbing banks and have a love life? Will his crew accept that he is with her? Will she ever find out? This is The Town.
Gone Baby Gone was his first directorial effort set in the city of Boston, The Town is his second. Ben obviously loves the city and if he keeps making films like these two, I'll be happy with some more Boston. I'm not going to preach about which film is better, their both different. Gone Baby Gone has more of an emotional punch with it's climax and tough decisions. The Town doesn't reach those heights, but it's a well made tense action thriller with a bit of a romance thrown in.
This time Affleck is in front of the camera as well. He seems to have left his pretty boy blockbuster image behind him. I'm thankful, I can only take so many Armageddons or Pearl Harbors. He's matured as an actor, this is evident by his roles as of late. State of Play and Hollywoodland are two examples. Of course he's had some fun films in between, but he's probably the best thing about those. Extract anyone?
For The Town he has assembled quite the cast. Jeremy Renner, who is hot off of The Hurt Locker plays his buddy with an attitude who won't think twice about pulling the trigger if you're in his way. Mad Men's Jon Hamm who is the FBI agent on their trail, his partner is Man in Black actor Titus Welliver, who was also in Gone Baby Gone. I wouldn't mind seeing more of him in films and if he's Affleck's good luck charm, all the better. Blake Lively has a small role and she does skanky a little too well. She has a thing for Affleck's character and she has a daughter, but he's obviously fallen for someone else. Rebecca Hall, who has the hard role of playing the woman who is dating her abductor. Things don't look too well for this relationship.
The Town shows Affleck's ability at directing action sequences. Gone Baby Gone wasn't full of gunfights and car chases, but The Town is. There are three separate heists in the film, the opening, the middle section and the climactic ending. All three are different from each other, one is in a bank, the other a truck and finally a baseball stadium. Each heist was exciting to watch and gave you those Heat moments. It's obviously the Heat was influential in the making of this film. It seems all movies that have robberies in them look to Heat.
Ben Affleck had a hand in writing the film, he of course won an Oscar with Matt Damon for writing Good Will Hunting. It appears he's found his footing once again and hopefully the allure of the blockbuster won't claim him once more. The Town is a successful film made for adults. It's slick, well acted and has enough thrilling moments to keep those who seek it entertained. The film centres mostly on Affleck and his new love and the heist bits are second fodder. Renner is the only one who gets some spotlight from the crew, the other two are simply background faces. The Town does it's job as a movie and Ben Affleck has found himself a new career.