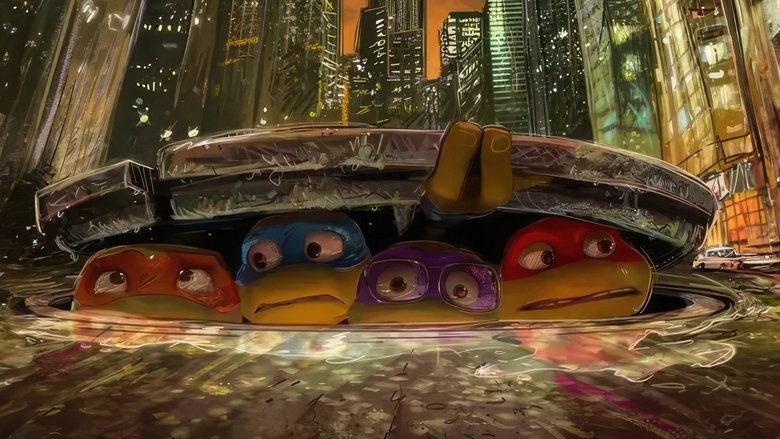 in
TEENAGE MUTANT NINJA TURTLES
MUTANT MAYHEM
(2023, Rowe)
"Even though it looks like we'll never be accepted, I still think we should try to be heroes."
The
Teenage Mutant Ninja Turtles
have been around since 1984; from comics and action figures to TV shows, films, and video games. Most of these give prominence to the fact that they're ninjas, because it's cool, and mutants, because well, it's obvious. But few have managed to capture the fact that they're "teenagers" as well as this latest animated outing.
Teenage Mutant Ninja Turtles: Mutant Mayhem
follows the turtles struggle to stop two different people from getting their hands in the mutagen that mutated them: on one side, there's TCRI executive Cynthia Utrom (Maya Rudolph) who wants to use it for her evil experiments, and on the other hand there's Superfly (Ice Cube), a mutated housefly turned criminal that wants to use it to mutate all creatures and achieve mutant dominance.
But one thing that the turtles have in common with Superfly and his gang are their need for acceptance, which drives their lives and efforts in wildly different directions. Superfly wants vengeance and power, while the turtles want to be friends and coexist. In one of those efforts, they meet student and aspiring journalist April O'Neill (Ayo Edebiri) who, being an outcast herself, accepts them and sets to help them out.
There are a number of things that this film does right, but the main one might be the successful chemistry and vocal performances they pull out from the four main leads (Nicolas Cantu, Brady Noon, Shamon Brown Jr., and Micah Abbey). They talk and behave like teenage kids would; something that the directors and writers noticed and took advantage of by recording many of their scenes together as well as allowing some level of improvisation.
The theme of acceptance and its importance is also well represented across most of the characters. Being teenagers isolated from the rest of the world, it makes sense that the turtles would want to go out, make friends, and have fun. But when you pair it with the fact that they're mutant turtles, it creates an obvious predicament. Their desire to be heroes is fueled by that need for acceptance, until they realize they *should* be heroes to save the world, regardless of whether they're accepted or not.
This project was mostly put forward and driven by Seth Rogen who, along with his frequent collaborator and childhood friend, Evan Goldberg, wrote the script. They also managed to bring along a cast of frequent collaborators (Paul Rudd, Rose Byrne, etc.) for some of the supporting roles which, again, goes to that familiar vibe the film manages to achieve. The whole tone of the film is very loose and fun.
Finally, the film has a very unique animation style, reminiscent of the one used for
The Mitchells vs. the Machines
, which seems to be a choice of main director Jeff Rowe, who co-directed that film. These style which can vary from very detailed bits to rougher sketch-like scenes goes neatly with the loose tone of the film which makes the end result all the more effective. With this being overall the seventh
TMNT
film, and with a sequel already in pre-production, looks like these turtles don't have to worry about acceptance.
Grade: