in
80 for Brady
Despite a serious shot of star power going for it,
80 for Brady
is a corny, predictable, and dreadfully unfunny comedy that produced surprisngly few laughs for this reviewer.
The 2023 film stars Jane Fonda, Sally Field, Rita Moreno, and Lily Tomlin as four female senior citizen BFF's who are serious fans of the New England Patriots in general and of Tom Brady in particular whose dream is realized when they win tickets to Super Bowl LI where the Patriots faced the Atlanta Falcons.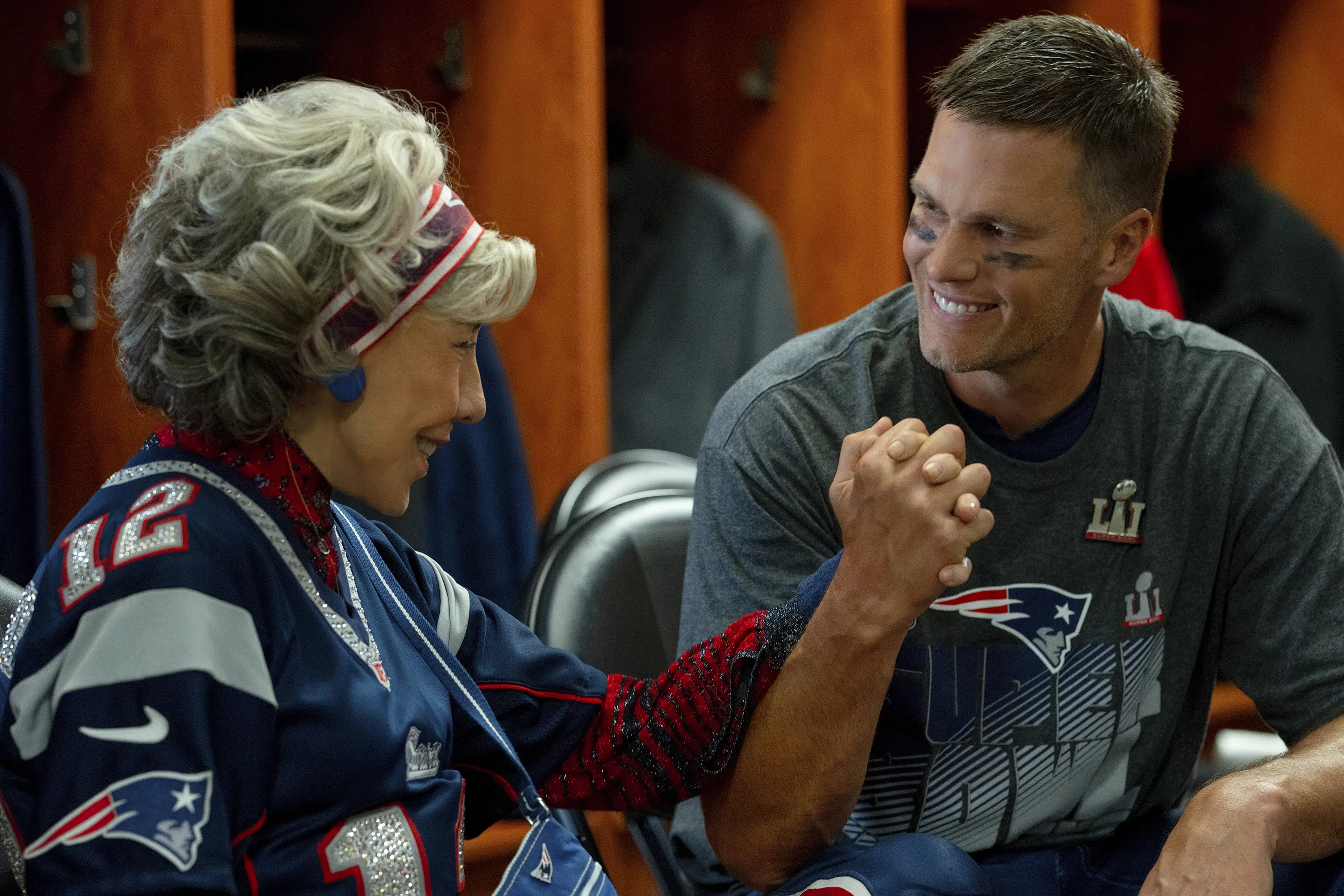 Can't recall the last time such high expectations for a film were so quickly dashed. The screenplay by Sarah Haskins and Emily Halpern comes off as an extended episode of
The Golden Girls
with these four women finding themselves in one silly situation after another from the moment they win these tickets. The ladies initially come off as likable but the attempt to flesh out the characters by giving them individual backstories that have nothing to do with Tom Brady just make the overly cute and overlong journey to the conclusion a very labored journey that wasn't nearly as funny as everyone involved seemed to think it was. An hour and 40 minute movie seemed five hours long.
The ladies' adventure at The NFL Experience went on way too long, especially the spicy buffalo wing eating contest in which Field participates. Credibility is strectched throughout the film as these women somehow manage to get into a lot of pre-Super Bowl parties and events that shouldn't have been so easy for them. The scene where three of the ladies eat marijuana gummie bears proved that the writers don't know anything about the effects of marijuana and worst of all, the implied cosmic connection between Brady and Tomlin's character, which reminded me of Steve Martin talking to the highway billboard in
LA Story
. And when Tomlin's character actually gets to give Brady a halftime pep talk, that was check out time for this reviewer.
The four stars work very hard to make this viable entertainment, but they deserve better than this. Serious star gazers will notice appearances from Billy Porter, Rob Corrdry, Harry Hamlin, Patton Oswalt, Glynn Turman, Alex Moffat, Sara Gilbert, Andy Richter, Sally Kirkland and Guy Fieri. If the truth be told, the only laughs for this reviewer came from Bob Balaban in a hysterical turn as Field's husband, who is completely dependent on her and lost when she heads to the superbowl. Only the star power keeps this film from a lower rating. Tom Brady is billed as the producer of mess.