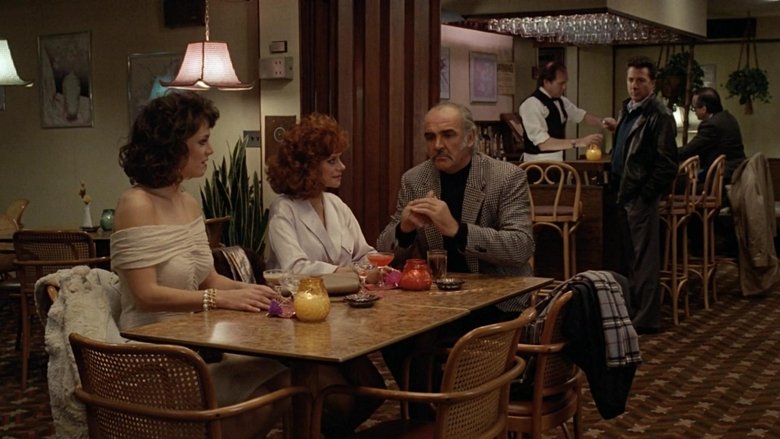 in
Family Business (1989)
A nearly forgotten gem from the resume of one of my favorite directors, Sidney Lumet,
Family Business
is a 1989 comedy-drama about three generations of a crime family that sags a little in the middle because the least interesting part of the story is the crime.
This is the story of the McMullen family which unfolds with young Adam McMullen (Matthew Broderick) borrowing money from his father, Vito (Oscar winner Dustin Hoffman) so that he bail his grandfather, Jessie (the late Sean Connery) out of jail. Adam worships his granddad even though Vito resents their closeness. Vito is naturally concerned when Adam comes to his granddad with a robbery idea that could net them over a million and agrees to participate as a way of protecting Adam.
The screenplay by Vincent Patrick (
The Pope of Greenwich Village)
is rich with the Brooklyn New York atmosphere that Lumet knows how to mount better than almost any director. Lumet also takes a little time with exposition than most stories do, but in this case, it definitely works to the film's advantage. Before the first act is over, we learn of the tension between Vito and Adam and why Adam blames Vito but Vito blames Jessie. We learn that Jessie thinks his son is stick in the mud for giving up a life of crime to run a meat packing plant. Vito hasn't forgotten where he came from, which comes shining through in a brief scene where he thinks an employee (Luis Guzman) is ripping him off.
Incredibly, the film really gets hard to stay with when the actually crime is committed, but it bounces back for an extremely effective finale where we learn of the consequences of the McMullen boys' actions and how it changes their already damaged relationships forever. Lumet and Patrick are also to be applauded for not wrapping the story up into a neat little boy where the McMullen boys ride off into the sunset together.
Lumet's atmospheric direction serves the story perfectly, as it always does, and gets the accustomed splendid performances from his hand-picked cast. Broderick offers his accustomed charm and Hoffman's method acting initially seems ill-suited for this character, but it eventually works, but Connery is the show here, stealing every scene he's in. Lumet's directorial polish and the the lead performances help the viewer overlook the minor problems.