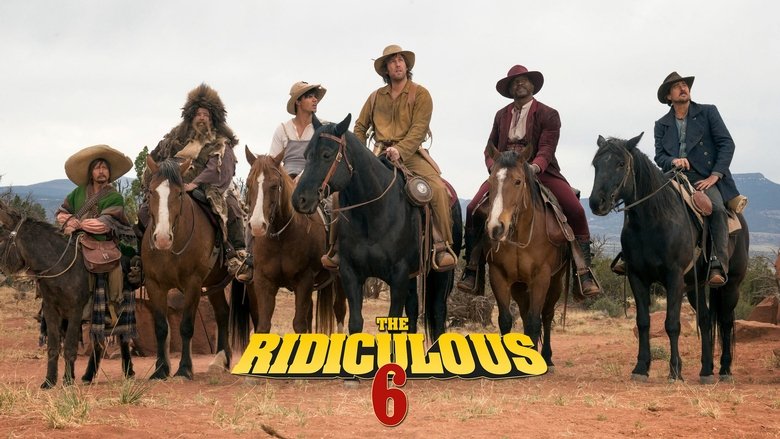 in
The Ridiculous 6
Adam Sandler and Netflix try the
Blazing Saddles
route with a 2015 misfire called
The Ridiculous 6
, a handsomely mounted, but fatally overlong western satire that nails the western but just doesn't bring the satire.
Sandler plays Tommy, a white man who was raised by Indians, who is briefly reunited with his father before the guy gets kidnapped. As he begins his quest to rescue his father, he learns that he has five half-brothers, who eagerly join him to rescue the father they've never met.
First of all, I have to say I love the look of this film. There is some gorgeous cinematography by Dean Semler that creates a breathtaking canvas for this story, but the story is the problem here. The screenplay co-written by Sandler and Tim Herlihy (
The Wedding Singer
,
The Waterboy
) is told with too straight a face for a satire, not to mention an extremely leisurely pace that contributes the film being a lot longer than it needs to be.
Ironically, the funnies scenes in the film have nothing to do with the primary plot. The scene where Tommy and his brothers encounter Abner Doubleday, brilliantly played by John Turturro, the scene where half-brother Danny (Luke Wilson) indirectly causes Lincoln's assassination, the song in front of the campfire, and the poker game featuring Mark Twain and Wyatt Earp are pretty funny, but have absolutely nothing to do with the rest of the movie.
Director Frank Coraci, who also directed Sandler in
The Waterboy
and
Click
doesn't seem to understand the rapid-fire pacing that satire requires...the jokes and bits have to come in quick succession so if one doesn't work, the next comes so quickly that the viewer doesn't notice. There are some funny bits that he sets up but he lets them hang in the cinematic air too long before they pay off, especially the wink to
Home Alone
, where he almost lost us.
Sandler has gathered an impressive all-star cast, including some of his regular rep company members to help pull this off. There is standout work by Terry Crews as half brother Chico, Steve Buscemi as a crazy doctor, Chris Parnell as a bank manager, Chris Kattan as John Wilkes Booth, Steve Zahn as a nutty bad guy, Vanilla Ice as Mark Twain, and country singer Blake Shelton as Wyatt Earp. Jorge Garcia's caveman and Taylor Lautner's semi-retarded Lil' Pete grow tiresome very quickly though. There is a fabulous, Oscar-worthy turn by Nick Nolte as the boys' father that alone is worth the price of admission. Sandler gets an "A" for effort here, but this is just too safe and too long.