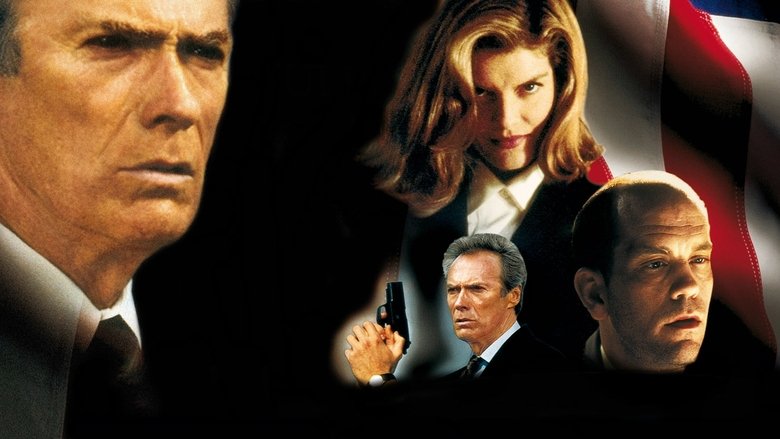 in
In the Line of Fire
, 1993
Frank Horrigan (Clint Eastwood) is a secret service agent who is haunted by his failure to save JFK in the Dallas assassination. When a demented killer (John Malkovich) sets his sights on murdering the president, Frank must give everything he has to track down the man's identity. Assisted by a mentee (Dylan McDermott) and an intelligent agent named Lilly (Rene Russo).
Overall I thought that this was a decent thriller, slightly hamstrung by Eastwood's lead role.
To be clear, there is nothing wrong with Eastwood's performance. He does a good job of holding the center of the film and he is by turns intense and funny. But simply put, he is too old for the character he's playing and it has negative ripples through the whole film. To begin with, it doesn't feel realistic that he's still being asked to do this very physical job. I did feel slightly vindicated by reading in the trivia section that the character is meant to be in his 50s, while Eastwood was in his 60s when he made the film. Eastwood's age also creates an age gap between him and love interest Russo (the actress is literally the same age as Eastwood's daughter). It lends an even ickier edge to what already feels inappropriate as Frank flirts with and pursues Lilly. (Yes, Lilly is also into him, but he's definitely the one instigating things, including after she says she doesn't want to make a professional mistake). The movie even seems a bit embarrassed of the idea of sex between the two, shying away in favor of visual jokes, and literally the last shot is
WARNING: spoilers below
them watching pigeons together like a woman caring for her elderly father
We are also asked to believe that he's a physical match for a man 20 years his junior and it starts to feel like some weird fantasy wish-fulfillment.
The story itself moves along with engaging thriller twists and turns as Malkovich's killer works to keep several steps ahead of the secret service agents. I really like films like this or like
Day of the Jackal
where you see the detail of the leg-work that the investigators have to do. Characters searching passenger manifests or questioning bank employees, yes please!
The supporting actors all do a good job in their roles. I wish that Russo's character hadn't been so relegated to being Frank's, like, emotional support partner. Most of what we see of her is her defending Frank to other agents and it starts to feel kind of one-dimensional. Bu Russo is a very engaging presence. McDermott is not an actor I have strong feelings about either way, but I was pleasantly surprised by his turn as the young agent who is struggling to cope with the trauma of an investigation that nearly resulted in his death. I did think that it was a bit too cliched to have the scene where
WARNING: spoilers below
Frank convinces Al not to quit, which, okay, if it wasn't already incredibly obvious that the killer is going to kill Al, it is now!!
I bet there are some people who really dig this film. For me it just had a few too many cliches and asked a bit too much of me with the main character.
Also (and NO, this didn't impact my rating!) is this just a fashion thing I do not understand: in the sexy scene with Frank and Lilly was Lilly wearing a sexy slip thing . . . under her pants? Someone please explain!