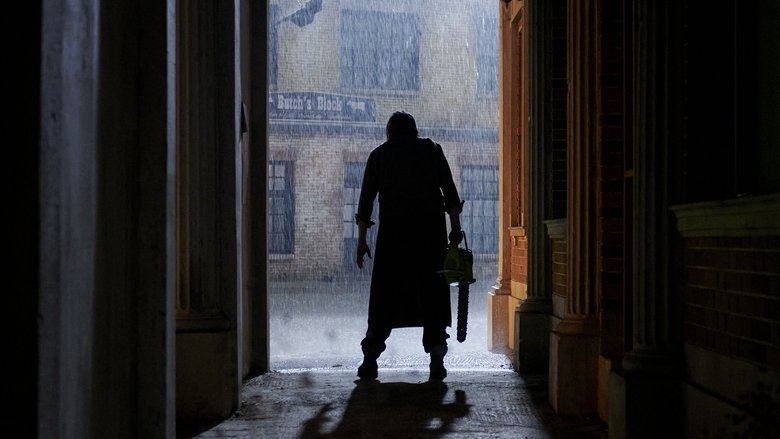 in
Texas Chainsaw Massacre
(David Blue Garcia, 2022)
Half a century later, the ninth film in the franchise finally delivers on the god damned promise of a Texas chainsaw massacre. "Try anything and you're canceled, bro!" At first I was rolling my eyes at the film's lip service to every trending topic (school shootings, gentrification, second amendment rights, systemic racism, confederate flags, woke culture, etc.) with the script stuffing social-media buzzwords into every character's mouth. It reeked of #pretentiousness, like the producers were above making a simple horror film and chose to use this long-running franchise as a soapbox, similarly to the dreadful 2019 remake of
Black Christmas
. Fears unfounded.
Texas Chainsaw Massacre
isn't populated with SJW types because it shares their self-righteousness. It's populated with SJW types because it wants to watch them dance on the end of a chainsaw.
I forgot that Marilyn Burns died a few years ago, so my dumbass was way too enamored with Sally Hardesty's Laurie Strode-inspired revenge subplot, to the point that I even lamented that she wasn't the main character. Once I realized that it wasn't Burns reprising the role, I felt foolish, and those scenes retroactively lost their luster. Kudos to Olwen Fouéré. She's a genuine bad-ass despite pushing 70, and she's also believable as an age-progressed Sally Hardesty. This means that Leatherface is eligible for the senior-citizen discount as well, but that doesn't prevent him from moving with the strength and speed of an NFL linebacker. Ground-up human chili must be the elixir of youth considering that Grandpa was still hammering skulls in the first two films despite clocking in at north of a century. This direct sequel (or "legacyquel") might not be a particularly good movie, but it's a good
TCM
movie: 81-minutes (counting credits), high body count, graphic violence, gallons of blood, sunbaked Texas atmosphere. The ending comes off like a lame parody of the original, but in retrospect I think it's intentional irony, and it fits the film's sneering, misanthropic attitude. We're just bickering, self-absorbed, judgmental slabs of meat destined for the butcher shop.