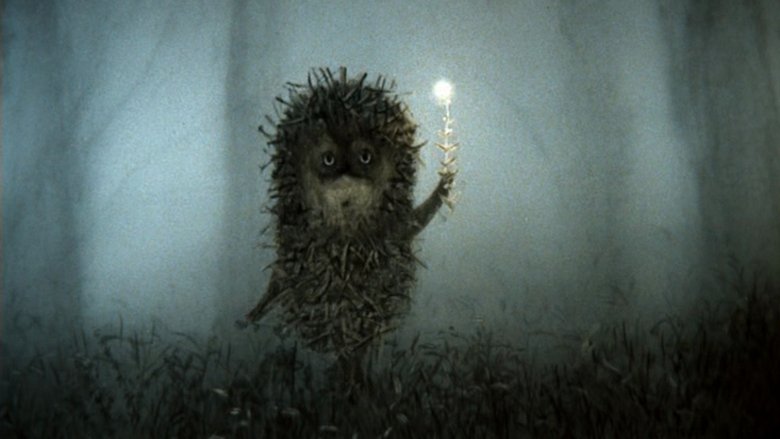 in
Hedgehog in the Fog
, 1975
A small hedgehog (Mariya Vinogradova) goes on a journey to visit his friend, and encounters many other creatures along the way.
This is my nomination and I have watched it countless times. I have also used it with my elementary students in a lesson about mood. I absolutely love this film.
For starters, I am totally taken by the visual style of it, which blends two-dimensional figures with "live" and real elements, like water and some sort of sea creature. The short leans heavily into the perspective of the hedgehog, and there are so many beautiful moments that capture his point of view, like when he thinks he sees an elephant only to follow a stick toward the object and find it to be a tree, which slowly rotates above him. I find this to be a really beautiful film, right down to the little details like the way that the hedgehog clasps his hands behind him in the early minutes.
There is a fun little sense of humor that runs through the short, such as the way that the hedgehog knows exactly what the bear will say when he arrives, right down to the "what do you call it . . ." or the way that the owl following him gets so easily distracted by the echo. The unexpected encounter with the dog, and the surprise ending to it, is also up there.
What I love most about this short is its mood. It fills me with a simultaneous sense of melancholy and hope and something else I can't quite name. I am very aware when I watch it that I feel a lot of feelings. Every encounter that the hedgehog has walks a line between fear or sadness and beauty. Obviously the horse is the key example of this, but I also like the seemingly-sinister "Someone" that carries him safely to shore as a favor. There is an atmosphere to this short that just goes right to my heart.
Totally enchanting, and one of my favorite films, period.