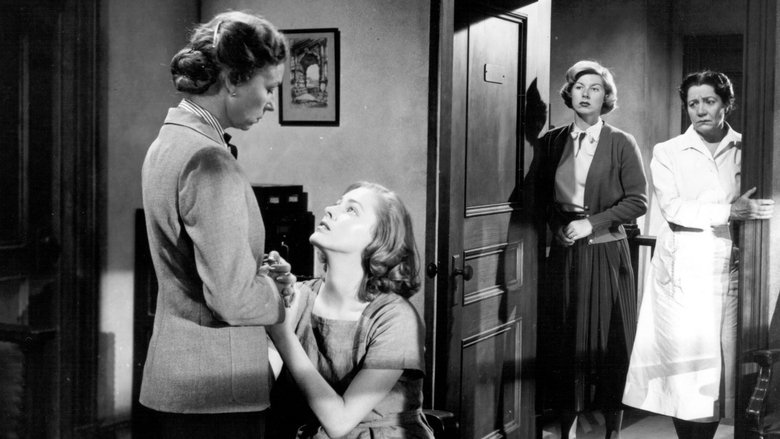 in
Caged (1950)
Warner Brother struck gold with a gritty look inside a women's prison called
Caged
, which works thanks to intense direction, a clever, fact-based screenplay, and some sizzling performances.
The 1950 film stars Eleanor Parker as Marie Allen, a pregnant, 19-year old widow who has been sentenced to 1-15 years for being an accomplice in an armed robbery. She initially finds sympathy from the prison warden Ruth Benton (Agnes Moorhead), but makes an instant enemy out of Evelyn Harper (Hope Emerson), the vicious and menacing prison matron who really runs the place, thanks to arrangements she's made with inmates and protection she receives from big shots on the outside. Marie manages to survive until her first parole hearing. Her parole is denied and Marie slowly begins morphing into a hardened prisoner who learns how to take care of herself.
The screenplay for this film was co-written by Virginia Kellogg and Bernard C Schoenfield, based on a magazine article Kellogg wrote. In order to research her screenplay, Kellogg actually arranged to be placed in a women's prison for the sake of accuracy of her article. She seems to have gotten what she wanted because the atmosphere established in this film is dark and hopeless, a lot more depressing than a lot of films I've seen that take place in men's prisons. I loved the way the inmates referred to life outside the prison as "the freeside." There was actually a scene here involving a woman who swears she didn't belong here that reminded me a lot of a scene in
The Shawshank Redemption
where the prisoner pretty much met an identical fate.
The most interesting parts of the story were Marie's transition and the cat and mouse between Ruth and Evelyn. Marie is a frightened teenager at the beginning of the film who is heartbroken at the thought of taking off her wedding ring and at the end of the film when she's released, she's throws the ring in the trash. Her first real defiance of Evelyn over a lost kitten seemed kind of silly though...pick your battles, Marie. And even though Ruth is the warden, it seems that Evelyn is the one with the power. When Ruth threatens to fire her, Evelyn laughs in her face.
It should also be mentioned that Evelyn Harper is one of the movie characters featured in
The Celluloid Closet
, a character who is probably lesbian but is either in denial about it or the script doesn't come right out and say it. Watch that first scene where Evelyn invites Marie into her quarters and offers her all kinds of perks if she's "cooperative".
Eleanor Parker's rich, full-bodied performance as Marie earned her the first of her three Oscar nominations for lead actress and Emerson's Evelyn earned her a richly deserved supporting actress nomination. Agnes Moorhead, in the most sympathetic role I have ever seen her in, is superb as the warden, a performance just as Oscar-worthy as Parker and Emerson's. A very young Ellen Corby also steals every scene she's in as Emma, an inmate for whom prison is a revolving door. John Cromwell's direction is taut and Max Steiner's music is perfection. An underrated drama from the 50's well worth your time.