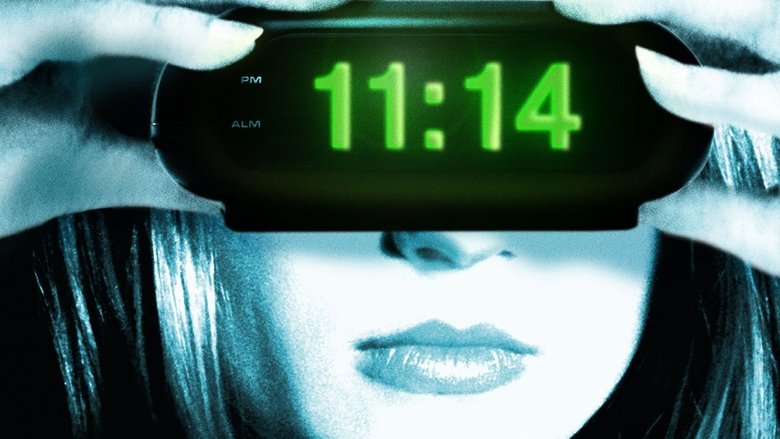 in
11:14
(2003, Marcks)
A film with the number 11 (Eleven, Eleventh, etc.) in its title
"I can't f*cking do it! It's the worst idea you ever had!"
That's the desperate cry of Duffy (Shawn Hatosy), whose desperate need for money prompts his friend Buzzy (Hillary Swank) to ask him to shoot her in the arm to fake a robbery on the convenience store they work at. It is a dumb idea, and certainly not the only one that's pondered and executed on this little indie thriller from 2003.
Like many so-called
Pulp Fiction
rip-offs and copycats of the late 90s and early-00s,
11:14
follows a wide array of characters through multiple, separate storylines as they all crash and converge in weird, funny, and unexpected ways at the titular time.
Aside from the convenience store employees, the characters include a slightly drunk driver that crashes onto something and the cop that stops him (Henry Thomas and Clark Gregg), a trio of teenage pranksters (Colin Hanks, Ben Foster, and Stark Sands), and a couple worried about their teenage daughter (Patrick Swayze, Barbara Hershey, Rachael Leigh Cook). The common denominator between them all, aside from the time, is that all of them have the worst ideas in mind about how to get around their night.
I rented this film shortly after its release. Like I said above, it has that same vibe of
Pulp Fiction
, with a big ensemble cast, a broken narrative, and multiple storylines intersecting at one point. At that time, I had such a blast with it, that I bought it as soon as I could. I've been watching it often since and recommend it often as well. However, I hadn't seen it since 2007, so I was afraid of how it would fare now. But alas, I had as much of a blast as I remember having before.
This is not a deep, thought-provoking film at all, but it doesn't aim to be (nor I think that every film should be). But the thing is that the stories are so creatively written and weaved that you can't help but smile and laugh at the ways they all come together, and most of the performances are quite good. There is maybe one storyline where you have to suspend your disbelief a bit to believe that a certain sequence of events happened in 10 minutes, but it's a minor gripe to hold it all together.
I had this marked for 4/5 from back when I last saw it. I've been going back and forth with bumping it down a notch, just because of its "ambitions", or just leaving it where it's at for the sheer fun I just had with it. After careful consideration, I've decided to leave it where it is; no apologies, it is a lot of fun, even if giving it 4/5 sounds like the worst idea I've ever had.
Grade: