in
In the Heights
After the unprecedented success of
Hamilton
, it should come as no surprise that
Lin-Manuel Miranda's previous Broadway triumph should make it to the big screen.
In the Heights
is the exuberant and explosive musical celebration of dreams set on a sanitized canvas based on one of New York City' most turbulent neighborhoods. If you're not a fan of musicals or if you're looking for a realistic vision of Washington Heights, you might as well stop reading now.
This 2021 musical extravaganza is a rowdy and rhythmic examination of the subject of dreams...dreams realized, dreams sacrificed, dreams adjusted, and dreams lost. The musical centers on the dreams of a tightly knit group of characters for whom Washington Heights has been their entire life. Usnavy is the young owner of a bodega who wants to buy a bar in the Dominican Republic; Nina has returned to the Heights after dropping out of Stanford because her father, the owner of a car rental business, can no longer afford the tuition or to pay her boyfriend Benny; Vanessa works in a beauty parlor but really wants to be a fashion designer and Sonny, Usnavy's cousin, wants to get from under the thumb of his drunken father, Gapo.
It should be stated that this musical makes no bones about the fact that it is a musical and Miranda and his co-screenwriters have made little or no effort to bring any semblance of realism to these joyous proceedings. The infectious title song, which opens the film, is sung directly to the camera for the most part and the streets are filled with dancers, not cars or street vendors or police or drug dealers. Anyone familiar with Washington Heights knows that it's one of New York's most dangerous and crime-infested neighborhoods but you'll see none of that here. It's a musical.
As with
Hamilton
, the score is an intricate blend of brassy Latino rhythms and contemporary hip-hop that Miranda has made his own personal form of musical expression and it works more effectively here than it did with
Hamilton
because the style of the music is a much more natural fit to the story and period here than it was with
Hamilton
. It's difficult to sit still for the pulsating rhythms of Miranda's score, greatly motivated by Christopher Scott's dazzling choreography, which is pure and unadulterated 2021. The other thing I loved about the dancing in this film is that not all of the dancers looked like starved ballerinas...the dancers in this movie were all shapes and sizes and not ashamed of it either.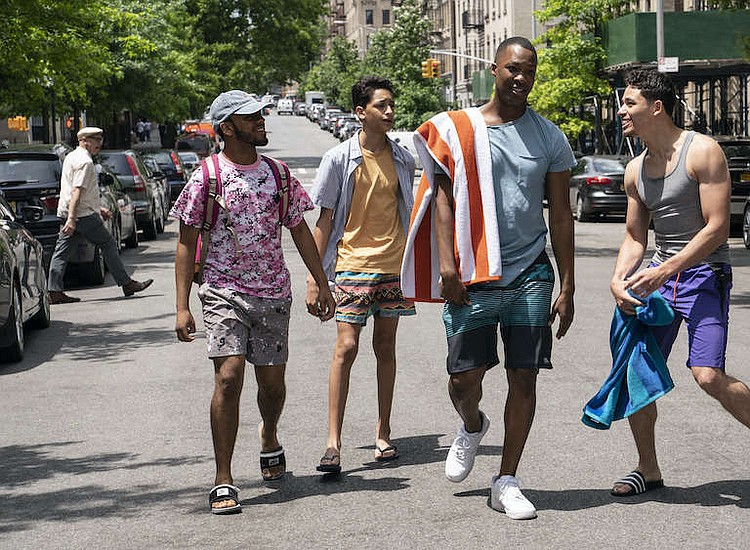 In addition to the title tune, the standout musical highlights include Usnavy and Vanessa's "It Won't be Long Now", "You Don't Say", the production number in the beauty parlor; "96000", a huge production number in a swimming pool centered on a lottery ticket, and "Piragua", performed by the snow cone vendor, played by Miranda himself. And just when we think we've seen it all, Benny and Nina perform "When You're Home", which becomes a lovely pas de deux on the side of an apartment building (yes you read that correctly).
Director Jon M. Chu (
Crazy Rich Asians
) keeps this spectacle moving nicely, with a strong Oscar-worthy assist from film editor Myron Kerstien (not to mention, Miranda, who I'm sure had Chu's ear throughout production). Victor Ramos, who was in
Hamilton
and played Lady GaGa's gay BFF in
A Star is Born
, lights up the screen in a sexy and charismatic performance as Usnavy and Corey Hawkins, who played Dr. Dre in
Straight Outta Compton
is a real charmer as Benny, creating real chemistry with Leslie Grace as Nina. Jimmy Smits plays Nina's father (and even gets to sing), and Daphne Rubin Vega, who created the role of Mimi in the original production of
Rent
makes the most of her thankless role as the beauty shop owner. For true movie musical lovers and for fans of Lin-Manuel Miranda, an unqualified home run and for my money, the Best Film of 2021 so far.