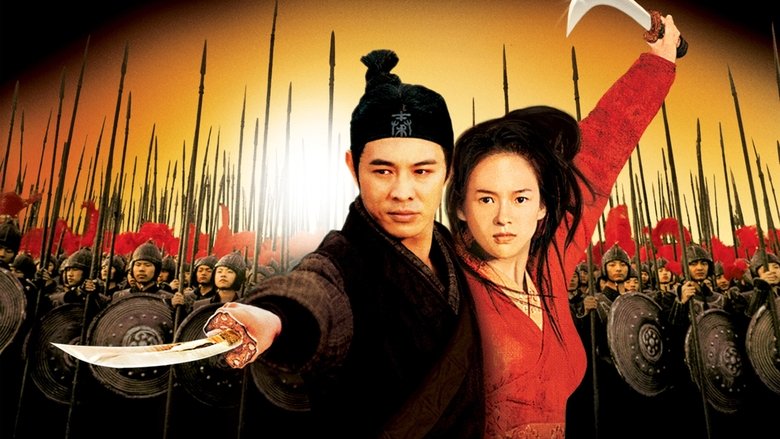 in
HERO
(2002, Zhang)
A fantasy film
"The ultimate ideal is when the sword disappears altogether. The warrior embraces all around him. The desire to kill no longer exists. Only peace remains."
I'm hardly an expert on martial arts films but a good chunk of them are known for their excessive violence, blood, and the swift use of the sword. There is a lot of the latter in this film, but not a lot of the former. Instead, director Zhang Yimou chooses a more zen-approach to his film highlighting not only the way the different warriors embrace their surroundings, especially during a fight, but also the peace they achieve in whether they use it or not.
Set in Ancient China,
Hero
follows Nameless (Jet Li), a mysterious swordsman that meets with the King of Qin (Chen Daoming) claiming to have killed three powerful fighters that were trying to kill him. However, as he tells his story to the king, we realize there might be more to him than what he claims.
The story has a bit of a
Rashomon
vibe, as we see the events that led Nameless to where he is now, as he fought the three warriors Long Sky (Donnie Yen), Broken Sword (Tony Leung), and Flying Snow (Maggie Cheung). As the narrative goes back and forth between past and present, as well as different versions of the same story, we find out more about Nameless, the king, and the fighters.
As well acted as it was, I felt the story got too twisty at times, with the motivations of the different characters never clear as we see them through the different point of views of the multiple characters. It might make it interesting to figure out, but a bit harder to latch onto. Plus, the ending felt to me a bit anticlimatic.
But regardless of the story, what takes front and center in this film is its great direction, gorgeous cinematography, and striking use of color to drive the narrative. Director Zhang and cinematographer Christopher Doyle both do a great job in the way they incorporate the characters surroundings, nature, and structures into their shots, while highlighting the colors in the wardrobe, walls, and other items. The end result is magnificent and peaceful to look at.
Grade: