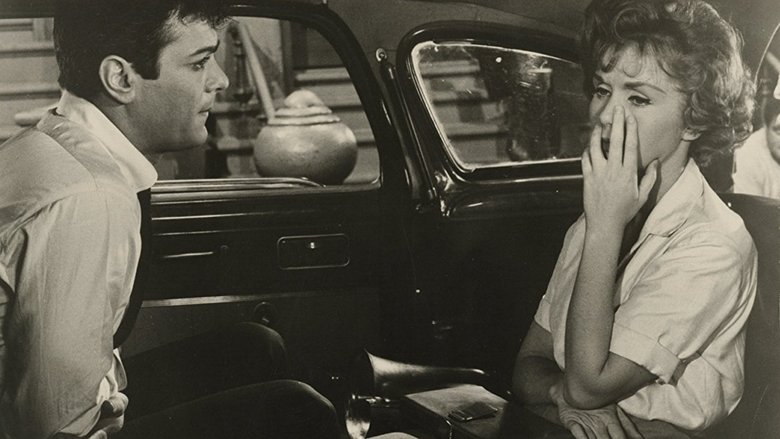 in
The Rat Race (1960)
Despite some dated plot elements, 1960's
The Rat Race
is a gritty and engrossing romantic drama that is still watchable after all these years thanks to atmospheric direction and some eye-opening performances.
It's a hot and grimy summer in New York City where we find two people thrown together by circumstance and find themselves first needing each other and eventually wanting each other: Pete (Tony Curtis) is a jazz musician fresh off the bus from Milwaukee who finds himself sharing a cramped one room apartment with Peggy (Debbie Reynolds), an aspiring model who is currently supporting herself as a dance hall hostess who is in serious debt to Nellie (Don Rickles), her boss at the dance hall.
Garson Kanin adapted the unconventional screenplay from his own play that had a short run on Broadway approximately a decade prior to this film. Kanin's story effectively sets up the sweaty atmosphere of this concrete jungle and effectively represents the millions who did (and still do) come to New York City as the ultimate symbol of success and, more importantly, the trusting souls who trust the wrong people and find one disappointment after another.
Director Robert Mulligan provides a sensitive directorial hand to an on the surface, often unpleasant story centered around a romance that never really plays as a romance though the viewer finds themselves rooting for these two to realize that they love each other as much as they need other.
What really makes this movie worth watching is some of the performances, which are really out of the comfort zones of the actors. Tony Curtis, who usually plays the wisecracking romantic leading man, is surprisingly effective as the small town guy looking for fame and fortune in the Big Apple. The real eye opener here though is Reynolds, who has played more than her share of virginal characters, who, with a strong assist from Mulligan, delivers the performance of her career as the hard-nosed hustler who is willing to sell her virtue to keep her telephone turned on. Reynolds is a revelation in this film, unlike anything I've ever seen.
Mention should also be made of veteran Jack Oakie, who made his film debut in 1923, in his second to last to last film role as a kindly bartender and Kay Medford as a greedy landlady and even Rickles brings the sleaze to his role as well. Also loved Elmer Bernstein's music, who also makes an onscreen cameo. A nearly forgotten gem from the 60's that is appointment viewing for Debbie Reynolds fans.