\
in
Rushmore
Director and screenwriter Wes Anderson had his first commercial success with an edgy black comedy from 1998 called
Rushmore
, a squirm worthy coming of age story centered around what ism basically, an extremely unlikable character.
Max Fisher is a brilliant 15 year old student at a prep school called Rushmore, who utilizes all of his brilliance becoming the king of extracurricular activities and applying none of it to his school work. This eventually gets Max expelled from the school, but as he attempts to buckle down in public school, Max still has unfinished business at Rushmore that he can't let go. Primarily, a pretty teacher at Rushmore named Miss Cross and his friendship with a wealthy benefactor of Rushmore named Herman Blume, unfinished business that blossoms into a bizarre love triangle that moves in some shocking and logic-defying directions.
Anderson is a film maker who has never gone for the simple and uncomplicated and this film is no exception. This Max Fisher is a true movie enigma...it's obvious five minutes into the movie that this guy is teetering on the edge of genius, but he uses his genius for all the wrong reasons...his genius manifests itself in a constant quest for power, popularity, seniority and self-absorption that has him wanting everything on his own terms. Just about everything he says in the first half of the film is a lie and he manipulates people to is advantage even if he can't remember their names five minutes after he meets the,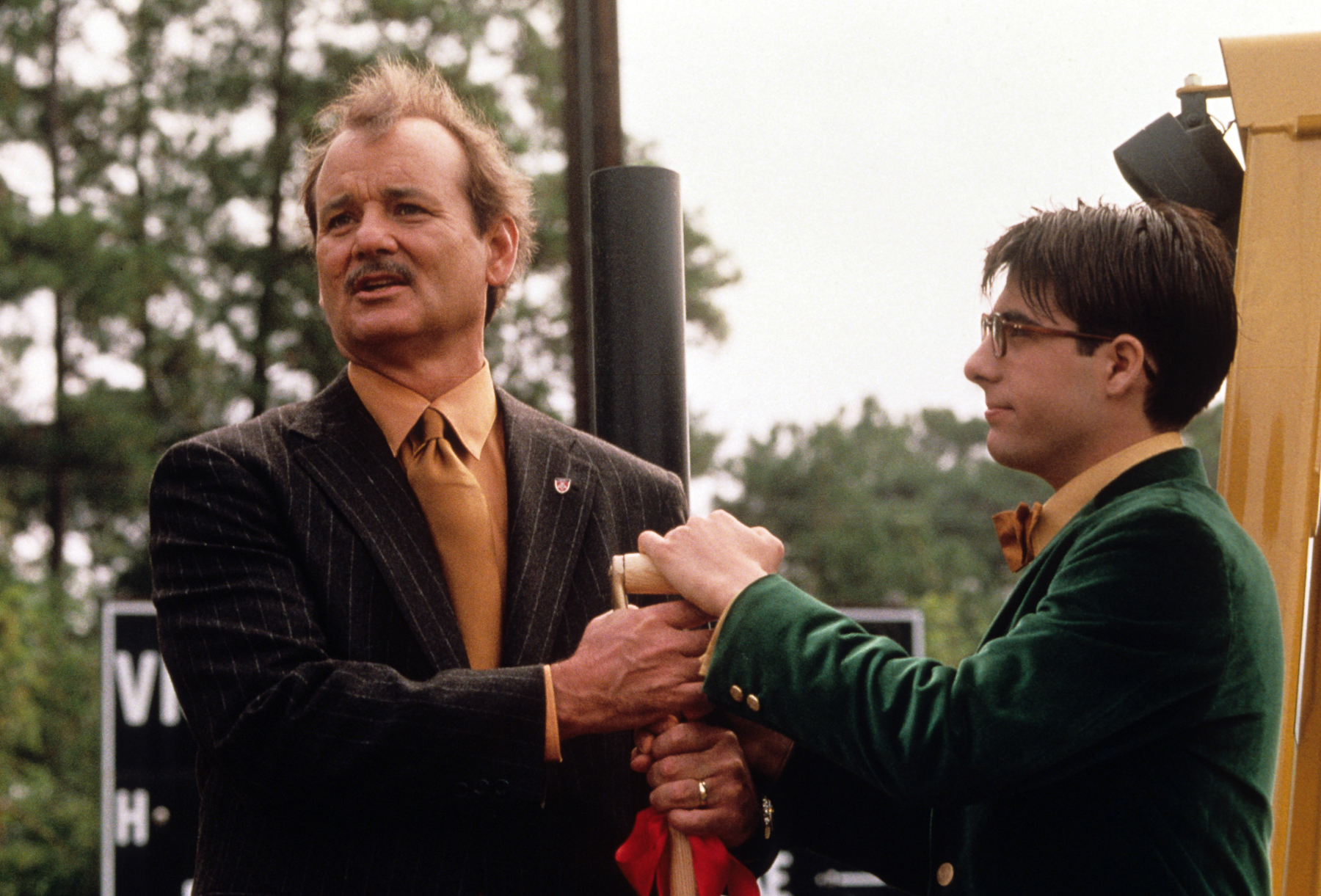 derson employs his accustomed theatrical and stylized way of presenting this story, which takes a little bit of the sting out of Max's behavior, but not much. His obsession of Miss Cross borders on the dangerous, but she initially doesn't do a lot to discourage it either. Yeah, Miss Crown is no prize either...she does nothing to encourage the attention of this 15 year old kid or Herman Blume, despite the fact that she still has feelings for ex-husband. And Herman Blume, who is also married, doesn't display much of a moral barometer either, sparing neither Max nor Miss Cross of his very special brand of venom.
Jason Schwartzmann,real life son of actress Talia Shire, put himself on the map with his star-making turn as Max. Schwartzmann doesn't shy away from the negative aspects of this character and makes him quite riveting, and almost allowing the viewer to buy his semi-redemption as the film wraps up. Bill Murray received some serious Oscar buzz for his unhinged Herman Blume, though he was eventually denied a nomination. Brian Cox was also funny as the Rushmore dean and Seymour Casssel is lovely as Max's father, but this film primarily documented Wes Anderson as a director to be reckoned with.