\
in
The Women (1939)
From the golden year of cinema, 1939's
The Women
is the deliciously entertaining film version of the Claire Booth Luce stage play that is an incisive and often stinging indictment of the battle of sexes told strictly from one side of the battle.
The story opens with the gossip-obsessed Sylvia Fowler learning from a chatterbox manicurist that Stephen Haines, the husband of her best friend, Mary, is having an affair with a vicious salesgirl named Crystal Allen. Once Mary learns the truth about what her husband is doing, she demands a divorce from her husband, even though she is still in love with the man.
Anita Loos does an Oscar-worthy adaptation of the stage play that opened on Broadway in 1938 and ran for over 600 performances. The primary hook for the story, onstage and in the movie, is that the story is told with an all female cast of characters. Eve though the story is about a failed marriage (actually more than one when all is said and done), the story is told completely from the wives' point of view...how she finds out, how her friends and family react, and what she decides to do about it, or not do, depending on your point of view.
We immediately feel for the Mary Haines character because director George Cukor takes time at the film's opening showing us how blissfully happy Mary with husband Stephen and her daughter, Little Mary. Further sympathy is evoked for Mary when, instead of telling Mary herself, the two-faced Sylvia innocently sends Mary to the manicurist and makes Mary learn from the horse's mouth so to speak, what is going on with her husband. This is just the beginning of the plethora of backbiting that goes on between the women in this story.
There are some dated theories about love and marriage offered along the way. We're disgusted when Mary's own mother suggests that Mary pretends to know nothing about the affair and keep her marriage together for the sake of her own family. We are equally disgusted by the way Mary gives up on her marriage without any kind of fight. The most interesting aspect of this movie and one of its most entertaining aspects is the way Stephen Haines and other male characters in the story remain a viable part of what's going on even though we never see them. There's a terrific scene where Mary's maid is eavesdropping at Mary's door, listening to the argument between Mary and Stephen where she demands a divorce and then runs downstairs to the cook and re-enacts the entire fight she just overheard.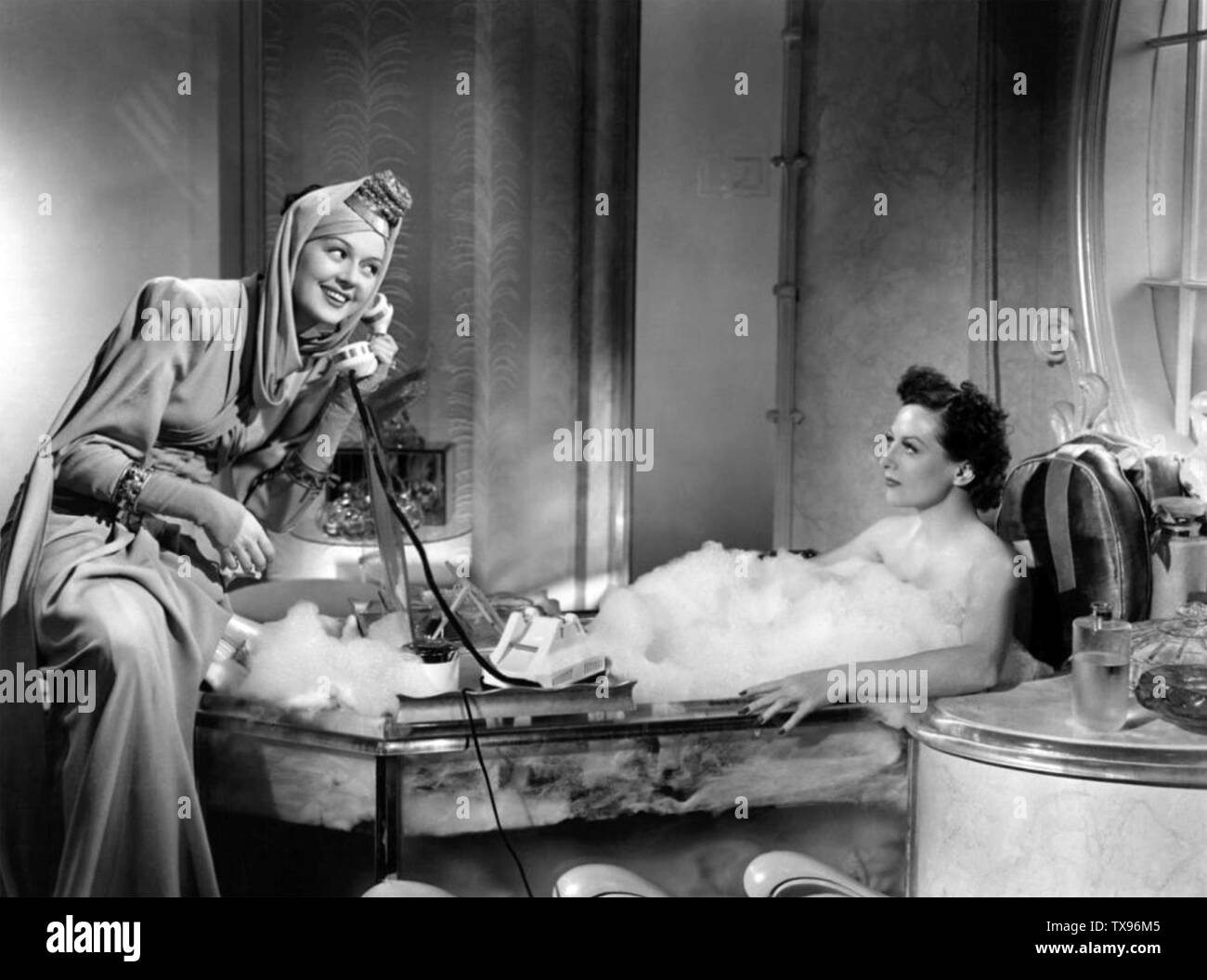 George Cukor's sparkling and energetic direction shows a great deal of care to Loo's screenplay and to making sure we never really miss the male characters who are part of the story even though they're not. The film features first rate production values, including lavish sets and costumes and a slightly overlong fashion show, which, for some reason, was filmed in color while the rest of the film was in black and white. Norma Shearer is charming as the put upon Mary and Joan Crawford is a wonderfully bitchy Crystal Allen. Rosalind Russell also steals every scene she's in as the two-faced Sylvia. The film was remade as a semi musical in 1956 as
The Opposite Sex
with June Allyson as Mary and Joan Collins as Crystal. It was remade again in 2008 with Meg Ryan as Mary and Eva Mendes as Crystal. but neither of those versions have the sparkle and bite that this one does.